John McCallum jailed for raping twin nieces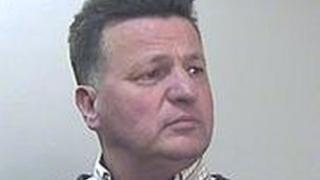 A man who raped his twin nieces has been jailed for 10 years.
John McCallum, 53, abused Rachel Steadwood and Tracy Brown, now 40, on various occasions between 1978 and 1987 at different addresses in Scotland.
The High Court in Edinburgh heard that the sisters, who have waived their right to anonymity, were just five years old when the abuse started.
McCallum was convicted earlier this month following a trial. Sentence had been deferred pending reports.
The court heard that McCallum, who was represented by one of Scotland's top defence lawyers, still denies his guilt and claims that Frances McMenamin QC and her assistants did not do their jobs properly.
He also felt that female jurors during his trial were prejudiced against him.
'Grave offences'
Judge Lord Boyd told McCallum, from Loanhead, he had no other option but to send him to prison. He was also put on the sex offenders register "indefinitely".
He added: "I note from the social inquiry report that you believe you were convicted because of the presence of young women on the jury and because your defence team failed to act properly.
"However, you were very ably represented by senior and junior counsel. The offences for which you have been convicted of are grave ones and must be marked by a substantial period of imprisonment."
During his trial, the court heard how the offences first came to light 15 years ago when one of McCallum's victims started to experience flashbacks of what happened to her as a child.
She told her doctor and asked for counselling - eventually reporting McCallum to the authorities.
The two women told the jury how the father-of-two molested them during visits to a travellers' site in Edinburgh and at a house in Loanhead, Midlothian, and elsewhere.
The trial heard how he drove a lorry looking for work laying tarmac and that some of the abuse took place in the cab.
Ms Brown said that on other occasions, while selling logs for firewood, he would take advantage of her in his van.
Panic button
The trial also heard that one of the sisters was just six years old when McCallum raped her on a caravan bed in 1979 or 1980.
The court heard that McCallum ignored her tears and pleas for him to stop.
Ms Steadwood told how she was raped between August 1980 and August 1982 when she was just seven or eight years old.
McCallum, who was president of a children's boxing club, denied the charges of rape and four charges of indecent behaviour going back to August 1978.
As the jury returned their verdicts, he interrupted and said he wanted to take a lie detector test.
Speaking after the case, Ms Brown, a businesswoman who owns a cafe, said: "He robbed me of a childhood and he's robbed me of having proper relationships.
"I've been on medication, like anti depressants, for most of my life. There's been drugs and bulimia and I've even tried to take my own life... that's what he did to me.
"Waiting for the trial was incredibly stressful. The police were great and I have a panic button in the cafe.
"But now it's done and I want to move on. I have my husband, my kids, my business. He's not in charge of our lives anymore. We are."
'Innocent man'
On Monday, Frances McMenamin QC said her client still maintained his innocence and that she could not say much in mitigation about the offences he had committed.
She said McCallum could not read or write and was previously held in respect by fellow members of the community.
She added: "He is a businessman who has obtained everything in his life through sheer hard work."
As he was being led away to begin his sentence, McCallum said: "I'm an innocent man. I'm an innocent man. I'm getting 10 years and I'm an innocent man."
Following the sentencing, Det Ch Insp Kenny Gray said: "John McCallum is a predatory individual who subjected his victims to a significant period of abuse throughout their teenage years and young adult lives.
"If not for the courage of these women in coming forward, his offences may have gone undetected and I would like to once again praise both Tracy and Rachel for their bravery during our investigation.
"I sincerely hope that today's sentence encourages other victims of sexual crimes, who may be suffering in silence, to come forward and report their abuse to police.
"Police Scotland is committed to keeping people safe and will thoroughly investigate any reports of sexual abuse, regardless of when the offences took place."