19th Century sketchbook stolen from Edinburgh library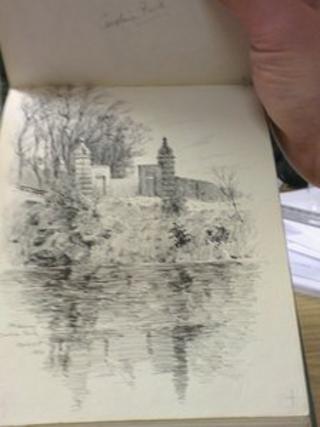 An old sketchbook containing drawings by a 19th Century artist has been stolen from a library in Edinburgh.
Police said the incident happened sometime between 14:00 on Monday and 15:45 on Tuesday at the Central Library on George IV Bridge.
The small green book, containing pencil drawings by Henry R Westwood, was stolen from a cabinet under a staircase.
The book, worth about £1,000, features sketches of Edinburgh from about 1890.
PC Chris Smart said: "Henry R Westwood was an Edinburgh-born artist whose work was being showcased as part of a minor exhibition within the library.
"Although he was not particularly well known, library staff had hoped to generate awareness of his work and the sketchbook is of historical interest.
"Anyone who comes across this book or can help trace those responsible for its theft is asked to contact police immediately."