Edinburgh junction closed after flat fire in Morningside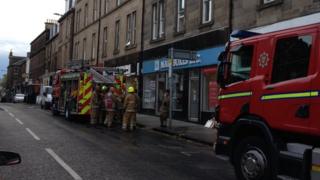 A large junction in Edinburgh has been closed while firefighters tackle a flat fire.
Firefighters were called to a first-floor flat in Morningside Road just after 15:30 after a fire broke out in a bathroom ceiling.
At least 15 firefighters are at the scene using breathing apparatus, thermal imaging cameras, hoses and cutting gear.
The top of Morningside Road at Holy Corner is closed to traffic.