Review ordered at Edinburgh Royal over missed cancer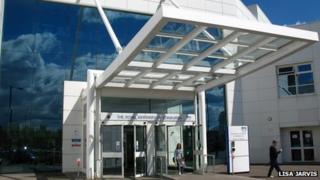 An official watchdog has ordered a serious clinical incident review at Edinburgh Royal Infirmary after staff missed a man's cancer.
Scottish Public Service Ombudsman Jim Martin found that a simple examination would have revealed the problem.
The man, known as Mr C, was referred to the hospital by his GP in September 2010 after he began coughing up blood.
In spite of repeated referrals by his GP, he was only diagnosed with throat cancer in September 2011.
Mr Martin has asked NHS Lothian to make a formal apology to Mr C.
In his findings, he said: "I am concerned that had Mr C's GP Practice not been so persistent in pursuing his case his cancer could have been left undiagnosed until the prognosis for him was significantly worse.
"I am also concerned that the appropriate examination required to diagnose the cancer was not carried out, given that it was a simple one, involving careful examination of the mouth and tonsils with a tongue depressor.
Mr Martin added: "Given the number of referrals, and the failure to carry out a simple examination on two separate occasions I uphold this complaint.
"I cannot now alter the delayed diagnosis for Mr C, however, in recognition of his distressing experience, I recommend that the board apologise to Mr C for the failings identified in this report."
The health board confirmed that it has now apologised to Mr C and is seeking to learn from his case.
Dr David Farquharson, Medical Director, NHS Lothian, said: "We have written to Mr C to apologise for delays in diagnosis and the distress that this has caused and I would like to take this opportunity to publicly repeat that apology.
"We accept the Ombudsman's recommendations in full and are implementing the recommended actions highlighted in the report.
"It is clear that there are lessons to be learned from this case and our Quality Improvement Team has already taken action to improve the service."