St Giles' Cathedral minister Very Reverend Gilleasbuig Macmillan to step down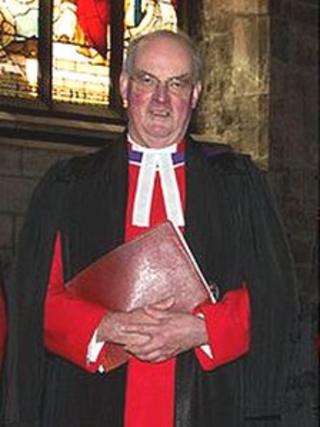 The minister of St Giles' Cathedral in Edinburgh is to step down after four decades in the pulpit.
The Very Reverend Gilleasbuig Macmillan, 70, is currently Dean of the Thistle and a Chaplain-in-Ordinary to Her Majesty Queen Elizabeth II.
The Edinburgh University graduate was the minister at Portree Parish Church on the Isle of Skye before beginning his work at St Giles' in 1973.
Rev Macmillan said he was privileged to be the cathedral's minister.
He added: "My work in this building has been supported by great music and a fine congregation, who have always been a great support and source of encouragement."
During his time working for the Church of Scotland the minister - who steps down next week - has received two honorary doctorates from the Universities of Edinburgh and St Andrews, and is an elected fellow of the Royal Society of Edinburgh.
The Church of Scotland's Reverend John Chalmers said: "Gilleasbuig Macmillan's ministry in St Giles has been remarkable.
"During his time the physical space of the Cathedral has been transformed and this has been driven by his acute sense of what is required to bring the worship of a Cathedral come to life.
"His preaching and theological insight has inspired a generation. Those of us who know his great gifts hope that in retirement he will publish some of the sermons and prayers which have been the hallmark of his ministry."