Monsignor Leo Cushley installed as Archbishop of St Andrews and Edinburgh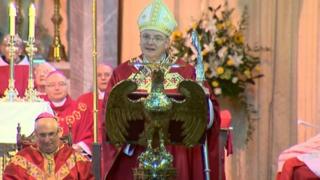 The new Roman Catholic Archbishop of St Andrews and Edinburgh has been consecrated at a ceremony in Edinburgh.
Leo Cushley replaces Cardinal Keith O'Brien, who stood down in February after admitting sexual misconduct.
A Mass of Episcopal Ordination/ Consecration was held at St Mary's Cathedral in Edinburgh.
He is the eighth archbishop of the diocese since the restoration of the Catholic hierarchy in 1878.
First Minister Alex Salmond and the Moderator of the General Assembly of the Church of Scotland, Lorna Hood, were among those who attended the ceremony.
Holy Father
Archbishop Cushley told the clergy during the special service: "As you may know, a couple of weeks ago the Holy Father called me in to see him.
"He wanted to know about all of you and to hear what I could tell him about my plans and priorities, and he listened and commented at length, with the sympathy and understanding of a man who had been an archbishop in a big capital city for many years - Buenos Aires.
"One of the things he communicated then and in the coming days was the idea that I should be merciful in my ministry here."
He continued: "But he explained that being merciful doesn't mean being soft.
"It means being gentle but also firm at the same time. This is what the Pope asked me to be for all of you.
"It is also Pope Francis' proposal for the way we priests ought to be with each other: firmly resolved to be merciful, to forgive, to be humble, to rebuild, to dialogue."
Archbishop Cushley was consecrated by Archbishop of Glasgow Philip Tartaglia, administrator of the St Andrews and Edinburgh archdiocese, and Archbishop Antonio Mennini, the Pope's representative in the UK.
The homily was delivered by Cardinal James Harvey, from Wisconsin in the US, who was Archbishop Cushley's first superior in the Holy See's Secretariat of State, and is a long-time colleague in the diplomatic service.
Cardinal O'Brien stood down as Archbishop of St Andrews and Edinburgh following allegations by three priests and a former priest of improper sexual contact in the 1980s.
'Important issues'
He later admitted his sexual conduct had "fallen beneath the standards" expected of him.
The Vatican announced in May that, with the Pope's approval, Cardinal O'Brien - Britain's most senior Roman Catholic cleric - would leave Scotland "for the purpose of spiritual renewal, prayer and penance". His current location is not known.
Speaking to the BBC last week, Archbishop Cushley said he did not believe the cardinal would or should return to Scotland.
But he denied that the Roman Catholic Church in Scotland was in crisis in the wake of the scandal.
He added: "I think the fundamentals are very solid, very sound, but I can't deny there are important issues that I'm going to have to deal with."
His appointment marks a return to Scotland for the 52-year-old who was born in Airdrie, North Lanarkshire, and ordained a priest in Uddingston, South Lanarkshire.
He was until recently head of the English language section of the Vatican's secretariat of state and accompanied the Pope on visits to English-speaking countries.
Archbishop Cushley, who speaks Italian, French, Spanish and Portuguese, has been a close collaborator of both Pope Benedict XVI and Pope Francis, and has been regularly involved in the visits of heads of state and other important guests to the Holy See.