Walker's wife speaks of jail repercussions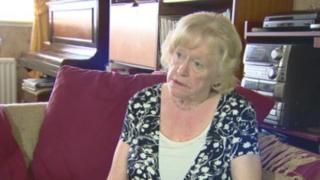 An ex wife of former MSP Bill Walker has told how she is "frightened" of repercussions when he is released from jail.
Anne Gruber, his second wife of 16 years, was assaulted 15 times at various addresses in Edinburgh and Midlothian between 1978 and 1984.
Ms Gruber spoke to the police when he started "espousing family values" in his role as a politician.
However, she said she had "no feeling of elation" about his jail sentence.
Mr Walker has been jailed for a year after being found guilty of attacking three former wives and a step-daughter between 1967 and 1995.
The 71-year-old, from Alloa, was convicted of 23 charges of assault and one breach of the peace. He denied the charges.
She told BBC Scotland: "I'm frightened that when he gets out there may be repercussions.
"This place (her home) is fairly secluded, people can jump out of the woods, I can't see around the corner. So I won't be very happy when he is released.
"I think the worst part was giving the police statement, it was day after day, for 39 hours and I was remembering things from my diary I had long forgotten.
"I don't feel it is over yet as he will appeal and I think when everything does calm down it will take me quite a while to get back to normality, but i will get there."
'Above the law'
Ms Gruber said she she didn't think Walker would change.
"A leopard doesn't change its spots," she said. "Hopefully it will give him time to focus on the damage that he has wrecked on so many lives.
"The more money and power he got the more it seemed to go to his head, he seems to think he is above the law.
"I don't have any feelings of elation to the sentence, really.
"In fact I feel quite sad at times that its had to come to this."
She added: "It wasn't my intention when this whole business was brought up that I wanted to punish him.
"My sole motivation was that I didn't feel he was a fit person to be a member of the Scottish Parliament and it really was quite outrageous some of the things he was saying, espousing family values when I knew he wasn't that kind of person at all.
"In fact I would say he was a hypocrite and I would say he has become worse over the years."