Edinburgh Zoo has first UK koala birth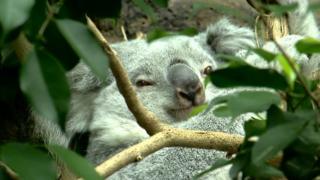 Keepers at Edinburgh zoo have revealed they have succeeded in achieving the first koala birth in the UK.
Their female koala, Alinga, is carrying a joey in its pouch after giving birth early in the summer.
The new arrival can be seen wriggling around in the pouch and is expected to poke its head out for the first time in the next 6 weeks.
Meanwhile, the zoo said it was still optimistic its female panda could give birth within the next week.
Donald Gow, senior keeper at Edinburgh Zoo, says: "We are all immensely excited by the birth of the UK's first ever koala joey.
"I have worked with the zoo's koalas for the past eight years and they require a lot of specialised care.
"Koalas are very sensitive creatures with a very selective diet and the husbandry can be extremely challenging."
He added: "As they are solitary animals, it takes an expert eye to know how to successfully introduce a male and female together for breeding.
"There is a lot of dedication and skill involved in caring for koalas, and it is a significant achievement for everybody involved."
Jelly bean
Koalas have a gestation period of only 30-35 days and the birth of the joey is thought to have taken place in mid May.
However, koala joeys are extremely underdeveloped when first born, measuring about 2cm long (less than an inch or the size of a jelly bean), blind, with no ears and no fur, and spend a further six months growing inside their mother's pouch.
The pouch has a powerful muscle to prevent the joey from falling out and, in addition to milk, the joey will suckle on a substance called pap, a special type of dropping produced by the mother which contains vital micro-organisms necessary for digesting eucalyptus leaves when it is older.
The joey currently weighs 100g to 150g (3-5oz) and is expected to first pop its head out of the pouch by mid-October.
The joey will start to climb onto Alinga's belly around mid-November, when it weighs around 400g (14oz), and this is when visitors are likely to be able to see it.
Around December it will then move onto her back and zoo keepers will weigh, sex and name the joey.
Alinga will carry the joey around on her back until it is about 12 months old.
Once the joey is sexually mature it will join the European breeding programme.