Pentland Hill Nursing Home: Police investigate four deaths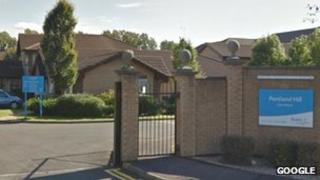 Police are investigating four deaths at an Edinburgh nursing home.
Police Scotland was first called to Pentland Hill following the death of a 67-year-old woman in July.
The force said it was now investigating four deaths at the Bupa-run home, which has been ordered to carry out a series of improvements by the regulator.
The Care Inspectorate is also dealing with four new complaints from families of residents, which are not related to the police inquiry.
Pentland Hill was severely criticised by the inspectorate earlier this year.
Inspectors found serious issues with the quality of care elderly residents were receiving, and with management.
Alex Hunter, whose mother Beatrice is a resident at the home, said the treatment received by his 88-year-old mother was "shocking".
Mr Hunter said: "To leave an old lady, who is frail in her bed, to allow her to be dehydrated to the extent she is now on a drip, is a scandal.
"I wrote a letter of complaint when I found she had a grade four bed sore and they replied 'It is not acceptable for Mrs Hunter to have developed the pressure ulcer, as it is clear all preventative measures were not put in place'.
"It is just shocking and I'm thinking of taking it up with my solicitor because I feel there's been total negligence here and I'm totally unhappy about this.
"The hospital was appalled by the state of my mother as she also has a urine infection and they were saying 'why can someone get dehydrated to that level when they are in a nursing home, it's just appalling'."
The home has been closed to new admissions until it carries out the improvements recommended by the watchdog, and a series of deadlines have been imposed.
Some of these have already passed, including a requirement to improve the administration of medicines and the monitoring of nutritional and fluid intake of residents.
'Urgent changes'
A Police Scotland spokesman said it and the Health and Safety Executive were carrying out "a joint initial investigation in relation to four deaths".
He said: "In addition, the Care Inspectorate is also investigating four complaints that are not related to the Police Scotland/HSE enquiries."
A Care Inspectorate spokesman said: "Every person is entitled to high-quality care which reflects their needs and promotes their rights.
"We are continuing to support this care home to make the urgent changes we set out in our improvement notice.
"We are now assessing the extent to which these requirements have been met.
"At all times, the health, safety and well-being of the residents is our top priority, and we continue to work closely with other agencies."
Diet and fluids
Vivienne Birch, Bupa Care Services' director of partnerships, said: "We believe we are on track to deliver the improvements we agreed with the Care Inspectorate but we appreciate we are not yet at the level we want to reach.
"We have invested significant resources in improving the home. For example, we have recruited extra staff to focus on assisting residents with diet and fluids and monitoring their intake.
"We have also improved our medication management systems and brought in extra dementia care experts.
"We always report any issues, however rare, to the police and relevant authorities and, as in these cases, we actively support their investigations.
"On 3 September the home manager, social worker and Mr Hunter met to review Mrs Hunter's condition.
"It was agreed that our care plan was working as her pressure sore had virtually healed and the GP had referred Mrs Hunter for further tests to explain her weight loss.
"Until Sunday morning Mrs Hunter's condition was stable; her pressure sore was healing and carers had been closely monitoring her fluid intake. On Sunday morning she refused all food and drink and would not allow staff to assist her.
"At the 13:00 check the nurse was concerned that Mrs Hunter's blood pressure had dropped, called 999 for an ambulance and alerted Mr Hunter."
Reports
The Crown Office and Procurator Fiscal Service (COPFS) has confirmed that it is studying reports relating to deaths at the home of three women and a 75-year-old man.
A Crown Office spokesman said: "We can confirm that reports in relation to the deaths of three women and one man, aged 94, 67, 93 and 75 in Edinburgh on 4 and 15 July and 17 and 5 September 2013 respectively, have been submitted to COPFS.
"A investigation by Police Scotland and the Health and Safety Executive into the circumstances of the deaths is ongoing under the direction of the Health and Safety Division of COPFS."