Edinburgh trams: Ticket prices unveiled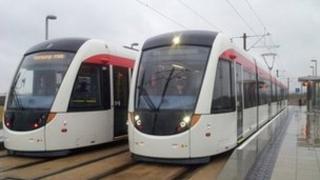 Tickets for Edinburgh trams within the city centre will match the price of bus tickets, the local council has said.
The price will be £1.50 for a single adult journey and 70p for a child.
However, passengers travelling from Ingliston or the airport to Gogarburn will be charged £2.50, with a child fare costing £1.50.
A return to the airport from any other stop will be £7.50 (£4 child fare). Drivers can take the tram from the Ingliston park and ride for £2.50.
Day tickets will be usable across both tram and bus and Ridacards will be valid throughout the entire route.
Airport supplement
Lesley Hinds, Edinburgh City Council's transport convener, said: "The tram will offer a fast, comfortable, convenient and reliable transport option at a very good price.
"With Lothian Buses, we've ensured that the bus and tram ticketing systems are fully integrated for ease of use and to keep costs low."
She added: "Like most cities there's an airport supplement and this is part of the business model to ensure the service is cost effective in operation."
The tram service is now forecast to be up and running for passengers in May 2014, two months ahead of the previous estimate.
Route testing
Plans have been set out for the handover of a section of the tram route between Gogar depot and Edinburgh Park Station for testing in early October with full route testing to take place in December.
Haymarket (Dalry Road to Manor Place) is set to reopen to traffic in early to mid October and Shandwick Place crescents are to open a few days later.
Last month the council set out plans to create a new organisation, Transport for Edinburgh, to integrate transport services in the capital.
Transport for Edinburgh will be set up initially to integrate the tram and bus services, with Lothian Buses and Edinburgh Trams confirmed as the operators.
The project remains in line with the revised budget (£776m) approved by the council in September 2011.