Proclaimers musical Sunshine on Leith gets UK premiere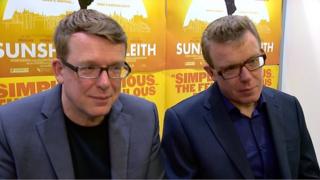 A film based on the music of The Proclaimers has received its UK premiere in Edinburgh.
Sunshine On Leith was originally performed on stage by Dundee Rep but has been transferred to the big screen.
It tells the story of two soldiers returning from Afghanistan to an uncertain future in Scotland.
Songs, such as I'm Gonna Be (500 miles), originally performed by Auchtermuchty-born twins Craig and Charlie Reid, are sung by the cast.
Proclaimers hits Letter from America, I'm on my way, Let's get married and the title track - Sunshine on Leith - also feature in the film.
The jukebox musical story, written by Stephen Greenhorn, was first performed on stage in Dundee in 2007 and toured theatres around the UK.
The musical has now been turned into a film starring young Scottish actors George McKay and Kevin Guthrie as well as Peter Mullan and Jane Horrocks.
The film, directed by English actor Dexter Fletcher, had its world premiere at the Toronto Film Festival earlier this month and received many positive reviews.
Surreal moment
Craig Reid said the audience in Toronto were singing along at the end in just the same way they had during the stage show.
He said: "It was a very good reception. You could tell as credits rolled there was a rumble of applause and then it was sustained."
His twin brother Charlie said: "The only down side was when I was coming out of the theatre afterwards a woman said to me - 'should've had subtitles'."
Charlie said the first time he saw the stage show was one of the "most surreal" moments of his life.
He said: "I was choking up with remembering the songs. Especially having female actors singing the songs back to you, it was overwhelming.
"Even by the time I saw this film it was still quite strange."
Charlie described The Proclaimers as "pub singers who belt out the songs".
He said: "In the film the songs have been taken apart and rebuilt with very good orchestration and sweet singing, especially from the girls, and it takes the music in a direction we could not possibly take it.
"It is a very different interpretation of the songs."
Charlie said Peter Mullan, who plays Rab, was "one of the best actors working anywhere in the world at the moment".
He said: "To see his interpretation of Oh Jean is a revelation."
Mullan said the film was generally a feelgood movie but there were some "tear-jerking moments".
"These are usually because I'm singing," he said.
Mullan said he jumped at the chance to be in a musical.
"I've never been asked before and I'll probably never be asked again," he said.
Sunshine On Leith is released across the country on 4 October.