Hillary Clinton receives St Andrews honorary degree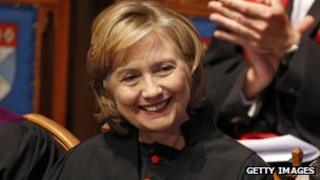 Former US Secretary of State Hillary Clinton has received an honorary degree from St Andrews University.
Mrs Clinton gave the graduation address at a ceremony to mark the 600th anniversary of the founding of Scotland's oldest university.
It is her first foreign visit since stepping down in February.
The former US first lady was conferred with a doctor of laws degree in recognition of her achievements as a politician and diplomat.
St Andrews said the award would also mark her work to promote education, human rights, democracy, civil society and opportunities for women around the world.
Mrs Clinton, whose husband Bill was US president for two terms between 1993 and 2001, paid tribute to the university and also the other figures on whom honorary degrees were conferred.
They included former Archbishop of Canterbury Rowan Williams, classicist Prof Mary Beard, inventor of the world wide web Professor Sir Tim Berners-Lee, primatologist Dame Jane Goodall, anthropologist Prof Dame Marilyn Strathern and philosopher Prof Nancy Cartwright.
'Great symbol'
Ms Clinton also paid tribute to particle physicist Prof Peter Higgs, who could not make the ceremony because of illness.
She said that like Prof Higgs, whose theory took almost 50 years to prove, she had in diplomatic work "grappled" to make sense of a world which is "deeply inter-connected and inter-dependent but afflicted by group denial of real world evidence and rejection of tolerance reviews outside tradition thinking".
"I would love to find a particle that would help to put the pieces of diplomacy together", she said.
Ms Clinton said the Scottish enlightenment, in which St Andrews played a key role, paved the way for much of the progress we now take for granted.
She said: "It is important that as we chart our way forward in this new century we bring with it the enlightened view that every individual around the world, regardless of gender, race, religion, ethnicity or orientation should be able to contribute to their society and have the chance to live up to his or her god-given potential."
Ms Clinton also praised St Andrews for being the first of Scotland's ancient universities to be led by a woman.
"It is a great symbol because equality for women remains one of the great unfinished missions of our time."
The university's principal and vice-chancellor, Prof Louise Richardson, said: "As one of the most influential women in the world, Hillary Clinton, as stateswoman, senator and policymaker, never shied away from tackling difficult questions, working to make the world a better place, inspiring others, speaking out for the voiceless and striving ever to excel.
"We are honoured that she will participate in our celebrations."
Mrs Clinton is addressing an audience of global education leaders, university staff and students at the institution's Younger Hall.