Edinburgh police seek man who punched woman in face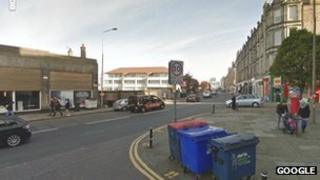 A man who punched a woman in the face, causing her to fall to the ground, is being sought by police in Edinburgh.
The man was seen punching the woman at the junction of Dundee Terrace and Dundee Street on Sunday at about 22:15.
Earlier the pair had an altercation on a bus and the man was seen kicking the woman.
They both got off the number 35 bus at Dundee Street and walked in the direction of Fountain Park. The man then punched the woman.
Passers-by stopped to help the woman and she got into a black taxi. The man got into another taxi by himself and headed eastwards.
A Police Scotland spokesman said: "We have as yet been unable to trace the man and woman involved in this altercation, and no witnesses have come forward either.
"We are keen to establish the wellbeing of the woman, and therefore anyone who thinks they may have witnessed this incident are urged to come forward and contact police."