NHS Lothian fined for patient attack on nurse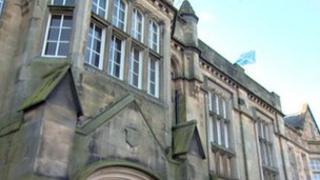 NHS Lothian has been fined £32,000 after admitting to failings which led to a nurse being attacked by a schizophrenic patient.
Magdalene Anderson was jumped from behind and had clumps of her hair ripped from her head after being sent on her own to the home of her attacker.
During the assault he "violently" shook Ms Anderson's head.
Last week NHS Lothian pleaded guilty at Haddington Sheriff Court to two charges of negligence.
It followed an inquiry by the Health and Safety Executive.
The nurse with 30 years of experience managed to break free during the attack and escape the 58 year old's house in Tranent, East Lothian.
Risk assessment
The patient, who had suffered with psychiatric illness for three decades, had previously attempted to attack another NHS employee with a blade.
The court was told the health board had not carried out a proper risk assessment for the East Lothian community mental health team, which Miss Anderson was part of, and that a risk assessment for the attacker had not been carried out properly.
The court also heard NHS Lothian had taken eight months to inform the HSE of the attack on 25 March 2009, rather than the stipulated 10 days.
Only two of 12 team members had up-to-date training for dealing with violent patients, and the health body had no system in place for dealing with emergency situations.
Earlier a sheriff fined the health body £32,000 for the failings which led to the attack.
In sentencing, sheriff Peter Braid said: "Lothian Health Board has pled guilty to two contraventions of the Health and Safety at Work 1974.
"Charge one is a breach of the general duty towards employees, and charge two is a failure to report or notify the incident timeously.
"The incident which led to both charges was the assault of an employee at Herdmanflat Hospital, in Haddington, who was conducting a home visit committed by a patient who was previously diagnosed with schizophrenia and who was known to constitute a risk."
Sheriff Braid also noted the "principal fault" of the incident lay with the local departmental manager in charge of the community mental health team at the hospital.
The manager had failed to carry out risk assessments and failed to ensure training was adequate and up-to-date.
Sheriff Braid added: "The (health) board's own culpability lies in the failure to audit that its procedures were carried out, and in the failure to check the team's register had been properly completed, when it had not."
Sheriff Braid fined NHS Lothian a total of £32,000, and gave the health body 28 days to pay.