Queensferry Crossing estimated cost trimmed by £145m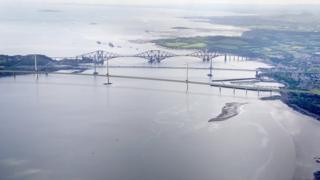 The overall cost of the Queensferry Crossing is set to be £145m lower than previous estimates, according to the Scottish finance secretary.
The new budget range for the Forth Replacement Crossing is £1.4bn - £1.45bn, down from the previous range of £1.45bn - £1.6bn.
John Swinney said the lower cost was a result of "successful management" and the "delivery of key milestones".
He said the saving was "very positive news for Scotland".
The project is due to open in 2016.
Mr Swinney said: "Over the last few years we have taken a deliberately Scottish approach to investing in infrastructure.
"We are supporting an investment led recovery in distinct contrast to the austerity agenda of the UK government."
Austerity agenda
The finance secretary said 90% of supply orders and almost 60% of sub contracts had been awarded to 365 Scottish firms and currently about 874 people are employed on site.
He added: "We are now two years into the project and progress so far means that £145m worth of savings have been identified on the project since construction started in June 2011."
Scottish Labour infrastructure spokesman James Kelly MSP said: "It does seem rather convenient that the SNP have found this saving just one day before they announce their budget plans.
"Given that their other major transport plans have a discrepancy of some £500m, perhaps this saving will go some way to plugging that gap.
"The SNP are playing about with these massive sums of money in an attempt to convince Scots that they're doing more than they are."
The Scottish Conservatives accused ministers of "dressing up" the figures.
The party's transport spokesman Alex Johnstone MSP said: "What's happening here is, as the project gets closer to completion, the overall cost becomes clearer.
"So there's no saving at all, it's simply homing in on the figure.
"Initially, the Scottish government said the bridge would cost as little as £1.45bn. Today, the Scottish Government has revealed the bridge could cost as much as £1.45bn.
"To dress it up any other way is a nonsense."