McColgan introduces half marathon in East Lothian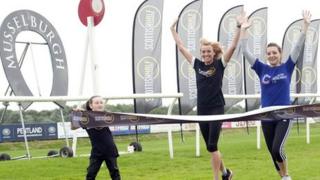 Former world champion runner Liz McColgan has launched a half marathon race event in Scotland.
Entries are open for the Scottish Half Marathon taking place in East Lothian in September next year.
McColgan, who held the half marathon world record, said the new event offered one of the fastest races in the UK.
Competitors will start the 13.1 mile route at Meadowmill Sports Centre in Tranent and finish in front of the grandstand at Musselburgh Racecourse.
McColgan, 49, said: "I love the half marathon distance, it's entirely different from the full marathon. The half marathon is a really challenging event that you have to train for but, at the same time, it's achievable for most people.
"It allows you to set a goal but it's within most people's capabilities to go out and run a half marathon.
"It's a chance for you to enjoy a personal achievement and raise thousands of pounds for charity. It's a great opportunity for people to participate in something they can feel really proud of."
The Scottish Half Marathon is organised by GSi Events, the company behind the Edinburgh Marathon.
Next month thousands of runners will take part in the Great Scottish Run in Glasgow, an annual event comprising a 10k and half marathon race.
Successfully defended
McColgan revealed her top tips for running the distance: follow a good training plan, eat and drink well before the race and avoid wearing new gear on the day.
She also warned not to push too hard at the start of a race and stick to your own pace.
McColgan won the 10,000m gold at the 1986 Commonwealth Games in Edinburgh and successfully defended it in Auckland four years later.
She became world 10,000m champion in 1991 in Tokyo and set a new record at the first IAAF World Half Marathon championships in 1992, describing the win as the biggest moment of her career as a half marathon runner.
McColgan won the New York, Tokyo and London marathons in 1991, 1992 and 1996 respectively.
"I still run for an hour every day," she said. "Running is in my blood and pulling on my trainers and getting out there is part of who I am. Running clears my head. I do most of my problem solving when I run."
McColgan coaches her daughter Eilish, 22, who finished 10th in the world championships this summer and has set her sights on the Commonwealth Games next summer and the 2016 Olympic Games in Rio.
"I'm so proud to be Eilish's mum. I think she's a very talented athlete and even if she wasn't my daughter I'd be really excited about working with her. It's a great partnership," she said.
"In the next couple of years Eilish is going to be capable of running pretty amazing times. She's seeing that now herself so it's exciting times for her and it's an exciting time for Scotland."
Cancer Research UK is the official charity for the Scottish Half Marathon.
Entries are now open for the event on 6 September 2014.