Monks' medieval handbell recreated at the National Museum of Scotland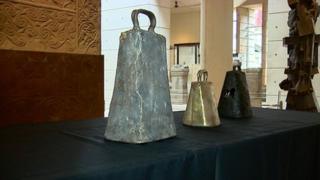 A team at the National Museum of Scotland have recreated an early medieval handbell, used by Scottish monks more than 1,000 years ago.
Only a handful of the bells survive, and none still ring, so the team decided to make one of their own.
They made it using old crafts and modern skills.
Experts said the research and the finished bells would help cast new light on an era from which little survived.
Different shape
Martin Goldberg, National Museums Scotland's early historic and Viking curator, said: "These bells are a stage earlier than the traditional church bells, we might think of, that ring out for marriages and we hear keeping time across towns and villages.
"They are not made of cast bronze like traditional church bells as they have an iron core to them that is made from folding a large wrought iron sheet together.
"It is then riveted together at the side and encased in a thin layer of bronze.
"They also have quite a different shape compared to a church bell.
"They do survive but are only rusty shadows of what they once were.
"When people see the rusty shadows in the museum case they don't appreciate what they would have looked like originally."