Bill Walker case: Dunfermline by-election plan considered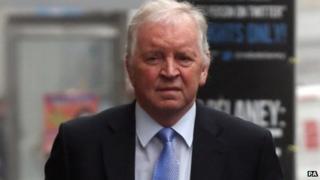 The process of holding a by-election to replace the disgraced MSP Bill Walker will get under way this week.
At the weekend, Walker announced he was quitting as MSP for Dunfermline, following his conviction for a string of domestic abuse charges.
Scottish Parliament Presiding Officer Tricia Marwick is in charge of setting the by-election date, which she needs to do within a three-month deadline.
She will consult with the political parties ahead of the decision.
Walker submitted his resignation after he was found guilty of 23 charges spanning almost three decades.
The attacks had been carried out against three ex-wives and a stepdaughter between 1967 and 1995.
The former SNP MSP, who had previously expressed his determination to stay on at Holyrood as an independent member, said a "media onslaught" had made it impossible for him to continue.
He had been under increasing pressure to stand down from fellow MSPs, more than 90 of whom had signed a parliamentary motion calling for him to go.
MSPs are automatically thrown out of parliament if they are jailed for more than a year.
The maximum sentence Walker could get when he is sentenced later this month under Scotland's sheriff court summary system is 12 months, which would have allowed him to remain at Holyrood.
As an alternative, parliament is this week due to consider a parliamentary motion on the principle of withholding an MSP's salary in such an event.
Meanwhile, the opposition has continued to ask questions about what the SNP knew of Walker's past, but the party said he was expelled when evidence of the charges emerged.