Bill Walker case: Ex-wife talks of 'outrage' over MSP's domestic abuse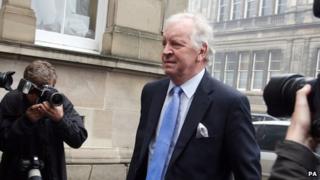 An ex-wife of disgraced MSP Bill Walker has said his attempts to remain at Holyrood had provoked "outrage".
Walker has submitted his resignation after being convicted of a string of domestic abuse charges last month.
The independent MSP for Dunfermline said a "media onslaught" had made it impossible for him to continue.
There have been calls for the SNP to explain Walker's election to Holyrood. The party said that when evidence of charges emerged Walker was expelled.
Walker, from Alloa in Clackmannanshire, is due to be sentenced in late September. The former SNP MSP was found guilty of 23 charges spanning almost three decades.
The attacks had been carried out against three ex-wives and a stepdaughter between 1967 and 1995.
The law states that any MSP jailed for more than one year will be disqualified. Walker had faced calls to stand down from campaigners and from a motion at the Scottish Parliament for more than two weeks after his conviction.
But in summary cases heard in sheriff courts in Scotland, the maximum sentence that can be handed down is one year, which would have allowed Walker to remain even if jailed.
In a statement to BBC Scotland, one of his former wives Anne Gruber said: "Bill Walker's, albeit belated, decision to stand down as an MSP, comes as a great relief to me and, I'm sure, all of his victims.
"He cites the ordeal he has endured but gave no thought to the tremendous stress he put on his victims by his continuous and ongoing denial of his abusive behaviour.
"Making us go through the court process of giving evidence and being cross-examined put an enormous strain on all of us.
"As an MSP, Walker had privileged access to vulnerable people and it is therefore a great relief to me that this can no longer happen.
"He still maintains his innocence, citing such things as a smear campaign and a vendetta. Nothing could be further from the truth - there were none of these, merely the outrage that we all felt that someone of his calibre could be allowed to represent people in the Scottish Parliament."
She said there was no motivation of revenge or spite on the part of the victims, but perhaps for the first time in his life Walker had "buckled under pressure".
Ms Gruber said she now looked forward to getting on with her life after a "surreal" few months.
Another ex-wife, Diana Walker, accused the 71-year-old of knowing what he had done but of being in denial.
She said: "There's one person to blame here and it's himself, but he still refuses to admit he has done anything wrong."
Inquiry calls
Announcing his resignation, Walker said circumstances had made it very difficult to continue as an MSP.
A spokesman for Walker said his position was that "one woman scorned was joined by another woman scorned", and added that Walker hoped to clear his name in the Court of Appeal.
His spokesman said: "Mr Walker was quite focused on seeing out the legal process, which he saw as staying in the job that he was elected to do until he was sentenced and then he would make decisions based on that.
"However, he says it became obvious that that strategy was affecting a lot of people close to him, particularly his wife, members of his family and his staff in the office in Dunfermline."
The spokesman added that Walker believed he has been "wronged", that there had been a campaign against him since the 80s, but that he understood the perception of him after the conviction.
As a constituency MSP, his resignation means a by-election will be held in Dunfermline.
In the wake of the announcement, the Scottish Liberal Democrats and Scottish Labour have questioned Walker's selection for Holyrood.
Lib Dem leader Willie Rennie said: "Removing Bill Walker from the parliament was the priority. But now that he's gone I am requesting the SNP commission an independent-led inquiry into these events and their internal processes.
"We need to know how this was allowed to happen, why a decision was made not to properly investigate the allegations and who made the decision. There are lessons to learn."
Serious questions
Scottish Labour's Graeme Pearson said: "The SNP need to be open and upfront about what happened and why they didn't block Bill Walker as a candidate."
Scottish Conservative leader Ruth Davidson said: "Some people high up in the SNP have very serious questions to answer as to why he was allowed to be candidate in the first place after his violent past was reported to the party."
SNP MSP Christina McKelvie, who also co-convenes a cross-party group on male violence against women and children, said: "There was questions raised, those allegations were given to the party, the party investigated them, there was no fault in law found at the time - so it's very difficult to then deal with that if there is no hard evidence as far as a conviction goes.
"But what we did do is we suspended Bill Walker immediately when the case went to court."
She added: "The focus today should be about the victims of domestic violence and certainly that's where my focus is."
After Walker's expulsion, SNP president Ian Hudghton MEP carried out a review of assessment procedures and in future any relevant information about a potential candidate - whether "backed by hard evidence or not" - will be passed to the Election Committee.