Dog with severely matted coat left in Fife lay-by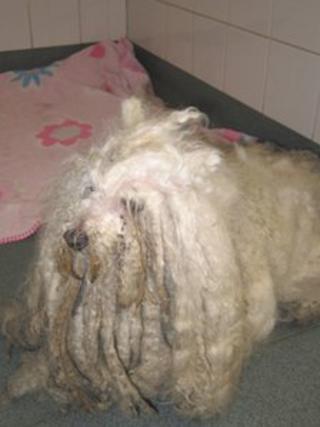 A dog with a severely matted coat has been found abandoned in a Fife road lay-by.
Motorists discovered the bichon frise cross poodle on the B9037 road between Shiresmill and Blairhall. They alerted police, who then contacted Scotland's animal welfare charity.
The dog, estimated to be 10 years old, was taken to a vets where he had over a kilo of hair removed.
He has been named Bob by animal welfare charity, the Scottish SPCA.
John Chisholm from the charity said: "Bob was left at the side of the road in a wire cage which still had the tag on it, indicating it may have been bought purely to dump him in.
"There was cold meat left inside the cage along with some toys.
"Bob had been allowed to become extremely matted, his claws were very overgrown and his ears were sore and infected. He clearly hadn't been receiving the care he needed."
He added: "Leaving him in such a state at the side of a busy road was incredibly cold-hearted and cruel.
"Unfortunately, our inquiries have not yet led us to the person responsible so we are now appealing to members of the public with information to come forward."
Bob was discovered on 16 August.
Abandoning an animal is an offence under the Animal Health and Welfare (Scotland) Act 2006 and anyone found guilty of doing so can expect to be banned from keeping animals for a fixed period or life.