Edinburgh trams: York Place to reopen after works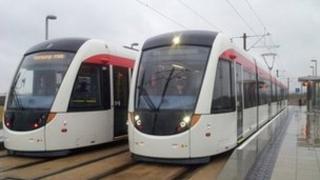 A major route into Edinburgh city centre is to reopen on Friday after being closed for 14 months for tramworks.
York Place has been closed to all traffic for a year, and was due to remain closed until the end of 2013.
However, work has been completed four months ahead of the latest timetable.
Edinburgh City Council said roads in the city's west end, which are closed due to tramworks, should reopen this Autumn.
The target is to have the delayed project up and running by next summer.
Driver training
Lesley Hinds, Edinburgh City Council's transport convener, said: "The city centre has come a long way in 12 months with Princes Street opening, St Andrew Square fully accessible, overhead wires installed throughout the city centre and York Place reopened.
"Our target remains to have a service up and running by summer next year but we'll bring this date forward if we can.
"However, there is still some construction work to be completed and, following that, a major programme of testing, commissioning and driver training."
Transport Minister Keith Brown said: "I am pleased to see progress on the project and the opening of the east end of Edinburgh for residents and businesses.
"This is a significant milestone with Haymarket and the west end also set to reopen during the autumn of this year.
"Once the construction works are complete the emphasis will quickly move to ensuring that the appropriate tests, checks and driver training are run as quickly and effectively as possible so that businesses, residents and visitors can really start to plan ahead with confidence."
The project is years behind schedule and millions of pounds over its original budget.
Edinburgh City Council said it was confident it could meet the revised budget of £776m and the latest target of having the tram line operating before summer 2014.