Charlotte Bronte letter to fan sells for double estimated price in Edinburgh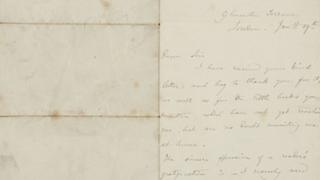 A letter written and signed by Charlotte Bronte to a fan of her novel Jane Eyre has sold at auction for £24,000, double its estimate.
In the 19 January 1853 note, written two years before her death, the author thanks pharmacist David Waldie for his praise.
An anonymous person bought it at the Lyon and Turnbull sale in Edinburgh.
A rare first edition copy of Adam Smith's The Wealth Of Nations sold at the auction for £46,000.
Waldie, from Linlithgow, West Lothian, wrote to Bronte after being impressed by Jane Eyre, published in 1847 under the pseudonym Currer Bell.
True identities
Bronte replied in her letter: "The sincere affection of a reader's gratification is - I scarcely need to say - one of the much acceptable favours in which an author can be repaid for his labours.
"I shall be glad if any future work of mine gives you equal pleasure to that you speak of having found in 'Jane Eyre'."
Jane Eyre was published the same year as Wuthering Heights by Bronte's sister Emily. It too was written under a pseudonym and it was only later that they and their sister Anne, also a writer, revealed their true identities to publishers.
Elder sister Charlotte died aged 38 in 1855 while pregnant with her first child.
The letter addressed from Gloucester Terrace, London was sold as lot 141 in the sale, Rare Books, Maps & Manuscripts.
It had been given an estimated valuation of between £10,000 and £12,000.
Adam Smith's An Inquiry Into The Nature And Causes Of The Wealth Of Nations was first published in 1776, and explores issues such as the division of labour, productivity and free markets.
The work by the Scottish economist and philosopher reflects on economics at the beginning of the Industrial Revolution and is one of the world's first assessments of what creates wealth within a nation.
The Wealth Of Nations, as it is commonly known, helped earn its Fife-born author the label of the father of modern economics and continues to be held in high regard.
Smith was an important figure in the Scottish Enlightenment and is considered by many to be both a great moral philosopher and pioneer of political economy.
He was born in Kirkcaldy where he later returned to write The Wealth of Nations over a period of 10 years.
This first edition copy had been valued at between £30,000 and £50,000 and was sold as lot 287 in the Rare Books, Maps & Manuscripts sale.