Convicted MSP Bill Walker 'must resign now'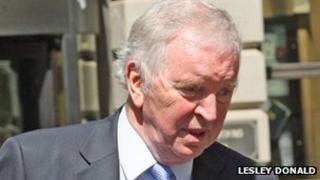 Protesters have put pressure on a convicted politician to resign as an MSP, with a rally outside the Scottish Parliament.
Bill Walker, 71, was convicted of a string of domestic abuse offences against his ex-wives last month.
However, he refuses to resign his seat despite the guilty verdict and public pressure, including a petition signed by 88 MSPs.
Organisers of the rally called for Walker to step down immediately.
Members and supporters of NUS Scotland Women's Campaign, Scottish Women's Aid and Zero Tolerance gathered outside Holyrood as MSPs returned after the summer break.
Jenny Kemp, co-ordinator for Zero Tolerance, said there was a strong feeling in Scotland that Walker was not fit for office and that he should resign as an MSP.
"We're here for three reasons. One, to send that very strong message to Mr Walker: you are not fit to be an MSP.
"Your presence in the parliament demeans it. Mr Walker, you have no integrity. You must resign.
"The second reason that we're here is to show that the parliament's procedures are not fit for purpose and they must change.
"We need the parliament, which is full of creative intelligent minds, to be thinking of whatever ways it can, whatever means it has at its disposal, to ask Mr Walker to resign."
Walker, from Alloa in Clackmannanshire, is due to be sentenced in late September.
He was found guilty of 23 charges spanning almost three decades, following a trial at Edinburgh Sheriff Court.
He carried out the attacks against his three ex-wives and a stepdaughter between 1967 and 1995.
The former SNP MSP, who was ejected from the party when the allegations surfaced, denied the charges.
The law states that any elected member jailed for more than one year will be disqualified.
But in summary cases heard in sheriff courts in Scotland, the maximum sentence that can be handed down is one year, allowing Walker to remain as an MSP even if he is jailed.
The 71-year-old faces having his wages curtailed if he is jailed.
Holyrood's presiding officer, Tricia Marwick, has instructed officials to look at the Scotland Act and advise the parliament's corporate body on members' pay and conditions.
The measure will be considered by the corporate body on Thursday.
Code of conduct
The Scotland Act gives parliament the power to set out pay provision, meaning changes could be made by MSPs without referring to Westminster.
Disqualification of a member is a matter for the UK Parliament.
Breaches of the MSP code of conduct do not apply to private and family matters.
Lily Greenan, manager of Scottish Women's Aid, said: "Bill Walker is a serial offender against women, with 23 convictions for assault over a 30-year period.
"Scottish Women's Aid believes he is therefore not suitable to hold public office, and calls on the Scottish Parliament to use any means at its disposal to remove him.
"There are also questions to be answered as to why this case was heard at summary trial.
"We will continue to press for these answers to ensure that all women who experience domestic abuse receive appropriate and meaningful justice from the courts."