Castle fireworks wrap up Edinburgh International Festival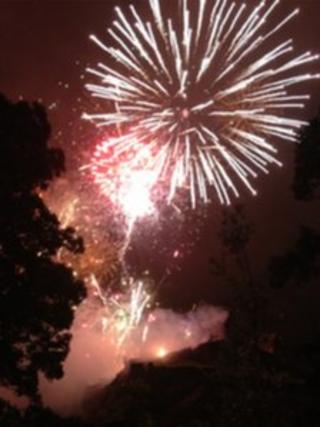 The Edinburgh International Festival has been brought to a close with a traditional fireworks display which lit up Edinburgh Castle.
The display was watched by an estimated 250,000 people across the capital.
Four tonnes of explosives and more than 400,000 fireworks were used in the hour-long show, which was choreographed to music.
The Scottish Chamber Orchestra played Mussorgsky's Pictures At An Exhibition and Smetana's Dance of the Comedians.
It took organisers a week to set up the fireworks, on 17 different levels on the castle rock.
Joanna Baker, Edinburgh International Festival managing director, said: "It is a really fantastic ending to a great festival season.
"It is the most incredible set-up, literally as soon as the Tattoo finishes they start setting up the fireworks.
"Up at the castle there are miles and miles of cabling, as it is all set off electronically. You can imagine just how much gun powder is delivered to the castle."
She added: "A huge amount of effort goes into the event. The planning starts about six months previously because to get the fireworks choreographed so beautifully to the music of the Scottish Chamber Orchestra it takes a lot of planning.
"They really look at every single bar of the music and work out how to put the fireworks with them, so it's a big, big event."
This year's festival is thought to have attracted more than 400,000 people and box office sales reached £2.4m.