Convicted MSP Bill Walker may have wages docked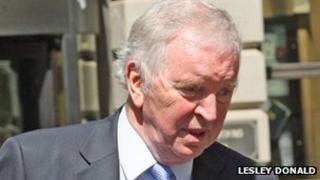 An MSP convicted of a series of domestic abuse offences may have his wages stopped by the Scottish parliament if he is jailed.
A spokesman for the parliament said MSPs would be asked to consider the potential sanction on Bill Walker when they return from the summer break.
Walker, 71, has refused to resign his seat following the conviction.
A petition calling on him to step down has been supported by almost all MSPs at Holyrood.
Walker is due to be sentenced in late September after he was found guilty at Edinburgh Sheriff Court of 23 domestic abuse charges, and one breach of the peace, over a period of almost three decades.
He carried out the attacks against his three ex-wives and a stepdaughter between 1967 and 1995.
Holyrood's Presiding Officer Tricia Marwick has instructed officials to look at the Scotland Act and advise the parliament's corporate body on members' pay and conditions.
A spokesman said: "Officials are looking at the issue of the extent to which a member who is a serving a custodial jail sentence should continue to be paid."
The matter will be considered by the corporate body on Thursday.
Disqualification
The Scotland Act gives parliament the power to set out pay provision, meaning changes could be made by MSPs without referring to Westminster.
Disqualification of a member is a matter for the UK parliament.
An SNP spokesman said: "Bill Walker was convicted of extremely serious offences and is not fit to be a public representative. He should stand down as an MSP and allow the people of Dunfermline to elect a new MSP.
"In the meantime, the SNP fully supports efforts of the Presiding Officer to consider what action can be taken in relation to pay and conditions if a member is serving a custodial sentence."
Liberal Democrat leader Willie Rennie said: "Presiding Officer Tricia Marwick is providing good leadership in seeking to deprive salary to an MSP in prison.
"There is a powerful uprising of disgust that Bill Walker plans to remain as a parliamentarian."
Claire Baker, Labour MSP for Mid Scotland and Fife, said: "The revelations about Bill Walker's cruel and violent history mean he is not fit to represent us and we all welcome this move to stop him receiving money he doesn't deserve."
Scottish Conservative leader Ruth Davidson MSP said: "It is only right that the Parliamentary authorities look into this issue.
"The public will find it hard to understand why they should be contributing their taxes towards someone found guilty of conducting a campaign of violence against women."