Darren Johnstone jailed for Dunfermline flat rape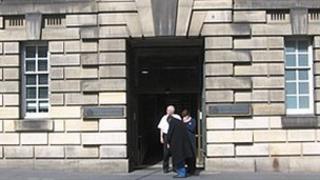 A man who raped a woman while his girlfriend was pregnant has been jailed for seven years.
Darren Johnstone, 23, carried out the attack at his flat in Dunfermline in Fife in April this year.
A trial at the High Court in Edinburgh heard his victim was terrified into submission because she knew he was carrying a knife.
Jailing him, judge Rita Rae said his "appalling crime" was made worse by the fact he boasted about it.
The court heard Johnstone, who has a string of convictions for violence, had been released early from a previous sentence for serious assault and was wearing a "home curfew" tag.
He was also subject to a court order to do something about his heavy drinking and outbursts of temper.
'Very frightened'
The trial was told that on the day of the attack Johnstone was becoming aggressive as he and friends drank cheap cider. He had a large knife in the back pocket of his trousers.
His 20-year-old victim took him into his bedroom to calm things down and Johnstone responded by demanding sex.
As she tried to leave the room he stood, blocking her way. The knife was on a chest of drawers.
CCTV footage showed the woman fleeing bare-foot from the flat.
One of her friends, told the court: "She was crying, falling on the floor, couldn't hold herself up."
Afterwards Johnstone was confronted by a pal of the 20-year-old woman who asked him: "Is this what you do? Rape women?"
The court heard Johnstone told her: "Aye, what about it."
When police were called to the block of flats in Broomhead Drive they found Johnstone cowering in a bin chute.
When questioned by police, he admitted having sex with the woman, but claimed she had consented.
Judge Rae told him: "You have been convicted of this appalling crime because you took advantage of a young woman who was clearly very frightened of you and looking at your record for violence I am not surprised."
The court heard that Johnstone's girlfriend had given birth a month after the rape.