Detailed Caltongate development plans unveiled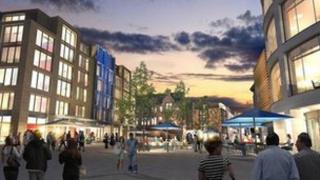 Revived plans to develop a derelict gap site in Edinburgh could create 2,500 jobs and provide new 145 homes, the consortium behind the project has said.
The international consortium headed by Artisan Real Estate Investors has now lodged a detailed planning application for the Old Town site.
The project is expected to generate about £43m for the local economy a year, the developers said.
The new plans follow the collapse in 2009 of the previous owner.
Mountgrange Capital had hoped to create 2,000 jobs and generate £300m for the city by turning the land into offices, housing and shops.
Artisan's new detailed plans submitted to Edinburgh Council reveal a £150m mix of leisure, retail and offices linking New Street and East Market Street with Waverley station and the Royal Mile, covering a total area of around 220,000 sq ft.
It will be centred around a £6.5m civic square with office space, 400 hotel bedrooms, 28 retail units, 145 residential units and 40 affordable homes.
The site is expected to create 1,750 new jobs and 720 construction jobs in its building phase, which is planned to start in spring 2014.
An 18-month consultation with local people, businesses, civic partners and heritage bodies has led to many historic Old Town buildings being retained, include Canongate Venture and the facade of the Old Sailor's Ark.
Views of Calton Hill from the Mile will be preserved and the Jeffrey Street arches will be retained as small artisan units.
'Consultation process'
Artisan managing director Lukas Nakos said: "This planning application marks a significant milestone in the evolution of one of the most challenging city-centre developments anywhere in the UK.
"We are now delivering on our promises made when we first started this process some 18 months ago.
"We now have the opportunity to create, in the very heart of Edinburgh, one of Europe's most exciting and vibrant mixed-use communities which will set an international benchmark for sensitive and innovative development.
"During the last 18 months, we have listened to a huge variety of views and opinions on the development of the site and heard impassioned arguments relating to its unique importance, setting, heritage and community.
"Our planning application reflects this varied and dynamic consultation process and we feel we now have a proposal which balances ambitious and flexible commercial priorities with a genuine understanding of the area's community and civic context."
Following the submission of the detailed planning application, a pre-Christmas committee hearing could mean that work on the development could start as soon as spring 2014, the developers said.
Architects for the development are Edinburgh-based Allan Murray Architects, with the affordable housing designed by CDA Design.