Bill Walker MSP ignores calls to quit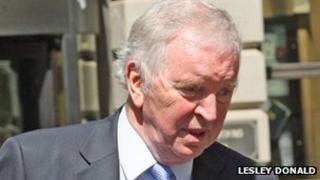 An MSP who was convicted of 23 domestic abuse charges and one breach of the peace has ignored calls to stand down.
Politicians have urged former SNP MSP Bill Walker to resign, with the first minister claiming he was "not fit to be a public representative".
More than half of Scotland's 129 MSPs have now backed a motion calling for him to vacate his seat immediately.
But the 71-year-old from Alloa, Clackmannanshire, told The Courier newspaper he had no plans to do so.
He was reported to have said: "I never had any plans to vacate my seat and that's it. I will just leave it at that."
Denied charges
Walker is due to be sentenced next month after being found guilty of 24 charges spanning almost three decades following a trial at Edinburgh Sheriff Court.
He attacked three former wives and a step-daughter between 1967 and 1995.
The MSP, who was expelled from the SNP in April after the allegations surfaced and now sits at Holyrood as an independent, denied the charges.
The law states that any elected member jailed for more than one year will be disqualified.
However, in summary cases heard in sheriff courts in Scotland, the maximum sentence that can be handed down is one year, allowing Walker to remain as an MSP.
Constituents' concerns
Politicians from all parties, including Labour leader Johann Lamont, Tory leader Ruth Davidson and her deputy Jackson Carlaw, have signed the motion from Liberal Democrat leader Willie Rennie.
It states: "The parliament believes that Bill Walker MSP should vacate his seat in the parliament immediately."
Mr Rennie told BBC Radio Scotland it was time for Walker to stand down.
"We cannot allow a wife-beater to take his place back in parliament as if nothing has happened," he told the Call Kaye programme.
"And that would be the message it would send to all these women who have been beaten up by their partner?
"What would they think about their parliament acting in that way?"
Mr Rennie said he had already had people from Walker's Dunfermline constituency contact him instead of their MSP "because they believe that Bill Walker cannot represent them any more".
He said he expected almost all MSPs to back the motion once parliament resumed next week following the summer recess.