Drink driver Karen Johnstone drove wrong way on Edinburgh City Bypass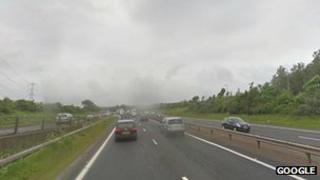 An Edinburgh woman who drove along the Edinburgh City Bypass against oncoming traffic has been fined £1,000 and banned from driving for three years.
Karen Johnstone, pled guilty to driving her car on the A720 on 4 November 2012 with 81mgs of alcohol in her breath. The limit is 35.
She was seen just after midnight going west on the eastbound carriageway.
Defence solicitor, Rebecca Weissgerber, said her client was absolutely horrified at what she had done.
Edinburgh Sheriff Court heard that the driver of a double-deck bus travelling west, began flashing his lights to warn oncoming vehicles of the danger.
Several had to take avoiding action as Johnstone's car repeatedly swerved between lanes and repeatedly struck the central barrier.
Hit kerb
The fiscal said Mr Marc Gillespie was one of those driving east.
He had a female passenger in his car, along with three children aged 10, nine and five.
He was forced to swerve and his vehicle hit a kerb, damaging it and endangering those in it. Ms McNeill said one of the children was "violently sick through shock and fear".
Johnstone continued to drive in the outside lane making no attempt to get on the right carriageway at speeds between 15 and 35mph.
She was eventually stopped by the police.
Ms Weissgerber, said: "She does accept her actions could have had disastrous consequences".
Johnstone admitted she should never have driven the car and when she realised she was on the wrong carriageway she was in "complete shock".
Ms Weissgerber, said: "She absolutely panicked and didn't know what to do, she was terrified".