Panda experts to descend on Edinburgh zoo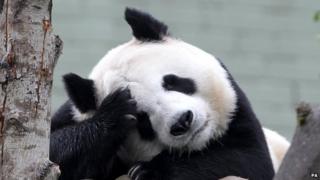 The world's foremost panda experts are to meet at Edinburgh Zoo for a conference on conservation.
The specialists will meet next month to discuss how giant pandas are looked after in zoos around the world and in Chinese reserves.
The plan is to develop a worldwide, five-year Giant Panda Research Project.
Edinburgh Zoo is home to the UK's only giant pandas, Tian Tian and Yang Guang, who are on a 10-year loan from China. The experts meet on 10-12 September.
Chris West, chief executive of the Royal Zoological Society of Scotland, said: "I am immensely excited that RZSS is spearheading a global research project into giant pandas.
"The outcome of the Giant Panda Research Symposium, a multi-disciplinary global gathering to come up with a five-year programme of integrated research and applied science, should make a real difference to the conservation of pandas and their habitat in the wilds of China.
"This really is ground-breaking research science at which RZSS is at the heart.
"The symposium underlines the society's aims to continue to be a world leader in conservation, science and education."