Cat found tied up in bag and left to die in West Lothian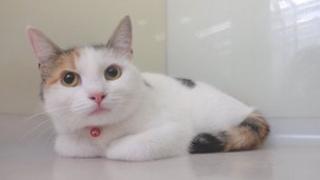 A cat has been found left to die tied up in a bag and dumped in a wheelie bin in West Lothian.
The Scottish SPCA rescued the cat after a man walking along Edinburgh Road in Bathgate heard her cries on Wednesday at 08:30.
The white and tortoiseshell coloured female was taken to the Scottish SPCA's Lanarkshire animal rescue and rehoming centre. She has been named Zola.
The Scottish SPCA said she was "lucky to have survived".
Animal ban
Insp Stuart Murray, of the Scottish SPCA, said: "Zola has been caused a great deal of distress and she's very lucky to have survived.
"The man who found her heard her cries coming from inside the bin and was shocked to find her tied up in a carrier bag when he investigated.
"It seems whoever did this to Zola didn't care whether she lived or died. They were, quite literally, throwing her away like a piece of rubbish, which is not only horrendously cruel but also an offence.
"We're very keen to speak to anyone who recognises Zola and knows who might have owned her."
Anyone found guilty of abandoning an animal and causing it unnecessary suffering can expect to be banned from keeping animals for a fixed period or life.