Teenager's death sparks cyber-blackmailing probe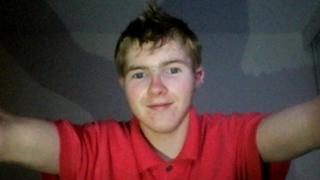 Police in Fife are investigating claims that a 17-year-old boy killed himself because he was being blackmailed on the internet.
It is thought Daniel Perry had become involved in a scam where victims are befriended and tricked into making explicit webcam recordings.
These are then used for blackmail.
It has also emerged that the teenager had previously been urged to kill himself by anonymous users on the social media website ask.fm.
The site has been linked to the deaths of other youngsters.
Hannah Smith, 14, was found hanged at her home in Lutterworth, Leicestershire, on 2 August, and is thought to have killed herself after being bullied on the website.
Her funeral is due to be held in her home town on Friday.
Several messages were sent to Daniel on the site about three months before he took his own life on 15 July.
One of the messages read "kill yourself mate" while another said "you need to let a blade meet your throat".
Other users involved in the conversations at the time condemned the messages and pledged their support to the teenager.
Daniel, an apprentice mechanic from Dunfermline, died after falling from the Forth Road Bridge.
It appears he had been having online conversations with someone whom he believed to be a girl around his own age.
The day he died the teenager had read a message on his laptop saying images or video would be made public and shared with his friends and family if he didn't pay money into an account.
He was warned that he would be better off dead if he did not transfer the cash.
Less than an hour after replying to the message he had killed himself.
Daniel's mother said she wanted to raise awareness of the dangers of internet blackmail.
She told the Dunfermline Press: "He was not the type of person who let things get him down.
"He was a happy laddie, not depressed and the last type of person you would think would take their life.
"Knowing him as I do, he has felt embarrassed, horrified and has thought he's let everybody down.
"We're a very close family and I just wished he had come to me and said something."
Internet extortion
She added: "When I feel strong enough I want to do something to stop this happening to other young people.
"He was coming up to his 18th birthday so it's not as if we could have been checking what he was doing on his laptop.
"However, he wasn't doing anything wrong just what anyone his age might do but this scam is all about exploiting young people."
Daniel attended St Columba's High School.
Head teacher Jim Mooney said he was popular with both staff and pupils.
"Staff fondly remember his cheeky smile and the banter they had with him. He enjoyed having a laugh.
"The whole school community was very saddened at Daniel's tragic death at such a young age.
"Both he and his family were remembered in our prayers when school resumed this week."
Police are urging anyone who is experiencing similar cyber-bullying to report it.
Claire Lilley, senior policy analyst at the NSPCC, told the BBC's Today programme this was the first time she had come across extortion of a young person on the internet.
"We have seen plenty of cases coming through ChildLine where children are experiencing serious cyber-bullying at the hands of their peers and also being groomed by sexual predators," she said.
"But this is the first time we have really seen extortion happening, via the internet, of a young person.
"Children and young people love the internet to learn, explore and connect with people like them all over the world.
"But it's about teaching them that not everyone is who they say they are and teaching them how to respect one another in terms of their behaviour online.
She reiterated calls for a "report button" on social media sites and said more should be done to tell young people where they could go for help.
Utterly devastating
Aileen Campbell, Scotland's minister for young people, offered her sympathies to Daniel's family and said bullying in any form was "absolutely unacceptable".
She said: "Modern technology offers great opportunities for education and communication but its misuse can be utterly devastating to those targeted and their families.
"Laws already exist to prosecute people for illegal behaviour online and our sympathies go out to the family of the teenager from West Fife."
She added: "As well as making it easier to report online abuse, we need to educate parents and other adults around internet use. People need to know where to turn for advice and who will support them if they need to take action."
A Police Scotland spokesman said: "Police Scotland treats any instances of cyber-bullying, online threats or blackmail very seriously.
"Facebook and many other social media sites have a facility where users can report content that causes them concern.
"However, threats or serious allegations made online by anyone against any individual reported to police will be thoroughly investigated.
"Anyone who is or has been experiencing such treatment should contact the police as soon as possible."