Colonel Hugh Nimmo completes 84 years of Salvation Army service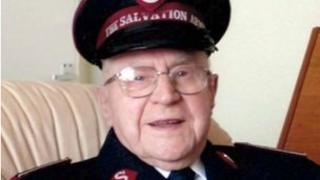 An officer who has served in the Salvation Army for 84 years is to celebrate his 104th birthday later.
Colonel Hugh Nimmo, from Leslie in Fife, is to host a party for his friends and family.
He was born while founder General William Booth led the The Salvation Army.
Colonel Nimmo has also lived through two world wars, the election of 24 prime ministers, and seen five monarchs on the throne.
He travelled to The Salvation Army's training college in London on the day of his 19th birthday in 1928, while the founder's son and right-hand man Bramwell Booth was the general, and was ordained as an officer in 1929 - the well known year of reform for The Salvation Army.
Wonderful pilgrimage
Before becoming a Salvation Army officer, he worked in the mines and in the mining office in Prestwick
During his time as an active officer before retirement, Colonel Nimmo spent 23 years as a church leader, 10 years as a youth leader, nine years as a leader of The Salvation Army in Scotland and five years serving in both England and Scotland.
Colonel Nimmo said: "I had a wonderful pilgrimage and I thank The Salvation Army for the wonderful privilege to preach the gospel."
Major James Williams, who supports retired Salvation Army officers from the church's national headquarters, said: "Retired officers are the backbone of The Salvation Army.
"They bring a wealth of experience and knowledge into the present day."