Alasdair Gray turned down knighthood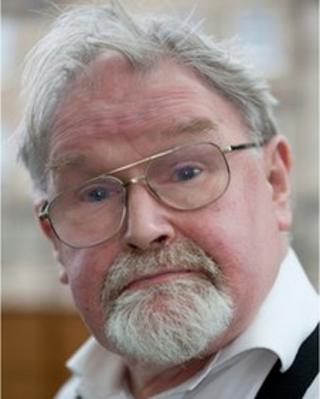 Scottish author Alasdair Gray has said he refused a knighthood offered by Gordon Brown's government.
The author of acclaimed novel Lanark joked that he turned it down "because there was no money attached".
Mr Gray, 78, a republican and supporter of Scottish independence, was appearing at the Edinburgh Book Festival.
He took part in a session discussing his comments last year when he attracted criticism for writing about "settlers and colonists" in Scotland.
The director of the festival, Nick Barley, who was chairing the event, described Gray as one of Scotland's leading living writers.
He said Gray's 1981 magical realist novel Lanark was one of the most important books in Scottish literature in the past 50 years.
But in December 2012 the Glasgow-based writer and artist was described as "anti-English" and accused of fomenting "racism" for using the terms "settlers and colonists" in an essay on Scottish Independence.
Cultural institutions
Gray said the comments were taken out of context, lifted out his essay as a "soundbite".
He said the colonists were those who arrived to make as much money as they could in furthering their careers and then they cleared out of the country.
His real frustration was with the arts establishment in Scotland which was "Scotophobic" when it came to appointing Scottish people to head its cultural institutions.
"I think it is because they think that Scottish artists won't be as manageable," he said.
Gray criticised the situation in which the previous head of Creative Scotland said on taking up his post that he knew little about Scottish culture but was willing to learn.
He was also scathing about the Robert Burns birthplace museum in Ayrshire, which was overseen by English director, Nat Edwards.
"Can you imagine the same with Shakespeare," Gray asked.
"I don't know much about Shakespeare but I like this job and, by god, I'm going to learn a lot about it," he said.
Gray said: "I was asked why the new head of the National Theatres of Scotland is once again English when we have in David MacLennan, director of A Play, A Pie and a Pint, someone who has commissioned more Scottish plays than anyone else.
"You've got to bear in mind who the people are who choose the heads of Scottish national theatre groups and companies. They are money people. They are bankers, they are insurance.
"There is maybe one or two artists in among them. These are people who don't want an independent Scotland."
Country's culture
Gray, who is to publish a book on Scottish independence next year, insisted he was not "anti-British".
He said: "Every nation is inhabited by natives - who are born there, settlers - who have come to live and work there, and colonists - who may have come to work there but who are intending to go back home, with as much money as they are able to make, of course. They may only be here for a very short time."
When asked by Barley, who is himself English, when a colonist becomes a settler, Gray said: "I suppose it depends on how much they identify with the culture of the place and work to promote it on the basis of understanding it."
He pointed to numerous English settlers in Scotland who had promoted Scottish culture, often when natives were opposed to them.
John McGrath, the playwright who wrote one of the most influential Scottish plays - The Cheviot, the Stag, and the Black Black Oil - was from Liverpool, Gray said.
"I'm very glad he came here and so are a large number of Scottish actors. So should a large number of Scottish people be," Gray added.
The writer and artist said: "We should not be surprised that English people have come here because there's quite a lot of those I've called settlers who find Scotland strangely agreeable."
In response to an audience member's assertion that if he was English he would have been Sir Alasdair by now, Gray revealed that he had turned down the honour from former Prime Minister Gordon Brown, a Scottish Labour MP.
He quipped: "As far as I could gather it might mean that if you didn't give large tips people would think you were a cheapskate."