Cyclist killer Gary McCourt: Crown appeals against 'lenient' sentence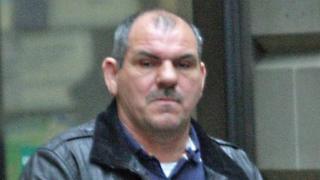 A man whose driving caused the deaths of two cyclists, 20 years apart, should be jailed and banned from driving for life, according to the Crown Office.
Gary McCourt was banned from driving for five years after being found guilty of causing the death of Audrey Fyfe, 75, in Edinburgh in August 2011.
He was also sentenced to carry out 300 hours of community service.
Appeal Court judges are considering the sentence after hearing from prosecutors that it was too lenient.
In April, a jury at Edinburgh Sheriff Court found McCourt guilty of causing Mrs Fyfe's death by careless driving.
The trial heard that McCourt told police he "clipped" Mrs Fyfe's back wheel at a junction.
The cyclist died two days after the collision, which took place between Portobello Road and Craigentinny Avenue on 11 August, 2011.
McCourt, 49, had previously been jailed for causing another cyclist's death by reckless driving in 1985.
Edinburgh man George Dalgity, 22, was killed by McCourt as he cycled along the city's Regent Road.
At the Appeal Court in Edinburgh the solicitor general argued that the trial sheriff should have imposed a custodial sentence and a lifetime driving ban on McCourt, given that he had caused another cyclist's death.
Lesley Thomson QC called the original sheriff's sentence "unduly lenient" and said he should receive a minimum of eight months in prison.
She said: "The sheriff erred in his assessment of the culpability of the respondent in that he attached insufficient weight to both the quality of the respondent's driving which resulted in the fatal collision and to the respondent's previous conviction for causing death by reckless driving.
"The sheriff further erred in attaching undue weight to the evidence that the deceased was not wearing a cycling helmet at the time of the collision."
'Cannot be criticised'
She said the sheriff stated that he took into account in mitigation of sentence that the deceased was not wearing a cycle helmet which in his view played a "very big part" in the fatal outcome.
Ms Thomson said: "There was no evidence, medical or otherwise that the absence of a cycle helmet contributed to the death and the sheriff erred in mitigating the respondent's sentence on that account."
McCourt's defence advocate Herbert Kerrigan QC told the judges that the sheriff acted correctly in law and that there was no need to change his client's sentence.
Mr Kerrigan also said that the Highway Code advised cyclists to wear a safety helmet when using the roads.
He added: "The sheriff is perfectly entitled to come to this view. He cannot be criticised."
Lord Menzies, Lord Glennie and Lady Dorrian told Ms Thomson and Mr Kerrigan that they wanted time to consider their decision.
The judges said they would issue their decision in a written judgement which would be issued in the immediate future.