Edinburgh sex workers 'degraded' by police sauna raids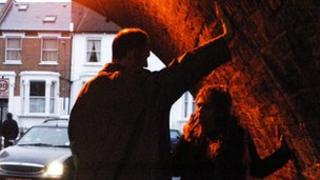 Women sex workers in Edinburgh have criticised police after a series of raids on saunas in the capital.
They claim tactics used by officers left them "feeling degraded".
Now they fear the existing council policy of tolerating saunas is in jeopardy after six premises had their licences suspended by the city council.
A Police Scotland spokesman said those inside the premises were treated with "sensitivity and compassion".
The sex workers also issued a warning that women will be put at risk if they are forced out of saunas to ply their trade on the street.
The condemnation of recent police raids has been led by the Scottish Prostitutes Educational Project (Scot-Pep).
The Edinburgh-based charity promotes sex workers' rights, health and dignity.
'Safe workplace'
A spokesperson said: "Scot-Pep urges the council to retain the Edinburgh model of tolerance and licensing for the saunas, as this has ensured a safe workplace for women for nearly three decades - and, beyond that, to move decisively towards full decriminalisation."
The charity has urged a moratorium on sauna raids and any further crackdowns on sex workers, clients, or managers.
Laura Lee, a sex worker, said: "The recent raids represent a change in policy in Edinburgh, which is very worrying. We know that when sex workers are no longer working together in safety and are dispersed they are in greater danger.
"Far more worrying is the news that there are to be talks to bring about a new 'strategy' for the workers involved. Once again, sex workers have been excluded from that process. It denies us a right to have our voices heard and is shameful".
Alix, another sex worker added: "The sauna policy in Edinburgh has allowed women to work in safer conditions. It is disappointing to learn Police Scotland employed tactics which led to women feeling degraded and fearful of dealing with the police.
"In a climate where women's groups are purporting to want to help women, it is astounding that no-one bats an eyelid when sauna workers are treated in the manner described by the women during the raids."
A Police Scotland spokesman said: "A multi-agency operation was carried out to inspect Edinburgh's licensed premises and tackle and detect any criminal activity; breaches of licence or risks to the public.
"Police Scotland and their partners undertook considerable planning prior to this operation, not only to ensure the inspections were carried out safely and efficiently, but to handle all of those inside each premises upon our arrival with sensitivity and compassion.
"Officers and other agency representatives were provided with extensive briefings on appropriate behaviour while within these venues and to date, we have received no complaints from any employee who was spoken to."
Consenting adults
Scot-Pep said the licensing system had kept Edinburgh sex workers safer than their counterparts in Glasgow.
The charity has warned for several months of its concerns that Glasgow's zero tolerance approach would be forced on the rest of the country after the unification of the country's police forces under Police Scotland.
When the law changed in 2007 to criminalise the clients of street-based sex workers, Scot-Pep recorded a 95% rise in attacks on women working outdoors in Edinburgh.
In Scotland, selling sex is legal between two consenting adults - as long as it happens in private.
Five years ago, buying sex from street prostitutes, or kerb-crawling, became illegal so clients of street prostitutes also now face arrest.
In Edinburgh, the city council licenses saunas, which are commonly thought to allow prostitution on their premises.
This differentiates Edinburgh from the rest of the country.