Gannet chick recovers after rescue at North Berwick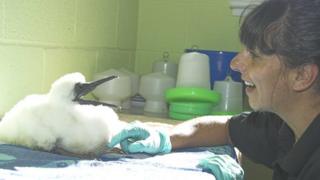 A gannet chick found washed up on the beach at North Berwick is recovering after being rescued.
The Scottish SPCA helped the five-week-old sea bird after it was spotted in distress on the shore.
Its coat of down feathers, "meant for warmth not waterproofing", acted like a sponge, absorbing water and making it difficult for it to stay afloat.
It is thought to have been knocked off its nest on the Bass Rock, which is home to over 150,000 gannets.
Named Jet by staff at the Scottish SPCA's Wildlife Rescue Centre at Fishcross near Alloa, the chick is "making good progress".
'Great progress'
Colin Seddon, of the Scottish SPCA, said: "It's unusual for us to receive gannet chicks as young as Jet because at this age they would normally perish at sea.
"The white, fluffy coat is down feather meant more for warmth than waterproofing so when they are washed into the sea the down acts like a sponge and absorbs water, making it very difficult for the chick to stay afloat.
"Remarkably Jet seems to have defied the odds and is making great progress."
He added: "We are hand feeding with sprats and we'll continue to care for her for at least another six weeks, until she reaches around 4kgs in weight.
"All going well we will release Jet back at sea where she will live off her fat reserves until she is light enough to fly.
"In the wild there is no support from the parents once the chick is at sea so we aim to replicate this natural fledging process as closely as we can."