Edinburgh Fringe: 'Ticket sales up' after Olympics dip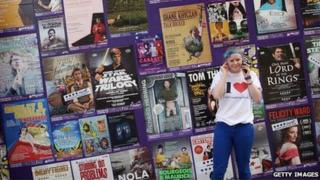 Edinburgh Fringe ticket sales are up on this time last year across the major venues, with many reporting increases in double figures.
Ticket sales fell last year for only the second time in more than a decade.
The dip was put down to the effect of the Olympic Games in London which clashed with the first nine days of the festival.
The Fringe will run for two more weeks so final figures will not be known until after the last weekend in August.
It remains the largest arts festival in the world.
The 2013 programme features 45,464 performances in 2,871 shows at a total of 273 venues across the city.
Charlie Wood, of Underbelly, told BBC Scotland his venue was experiencing one of its busiest ever starts to the Fringe.
He said: "This year we don't have the (Olympic) Games so people are really coming out and watching it.
"We have had the most amazing weekend we have had for a long, long time - lots of people watching an awful lot of shows.
"So I think on a five year average, we are up compared to that this year."