Couple admits Royal Mile Pharmacy hostage raid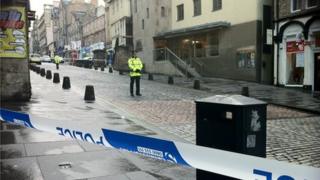 A man and woman have admitted holding staff and customers hostage in a raid at a Edinburgh chemist's shop.
Russell Irvine, 32, and his partner Helen Paterson, 33, sparked a three-hour armed siege at Royal Mile Pharmacy on High Street in May this year.
The High Court in Edinburgh heard the couple, who were high on drink and drugs, staged the stand-off after the woman's baby was place in care.
A judge deferred sentence on the pair for background reports.
Irvine and Paterson admitted abducting and assaulting pharmacist Peter Tinkler, employees Diane Keenan and Sandra Carr and customers Kaya McQueen, who was five months pregnant, Paula Gordon and Mahinder Singh-Landa, and robbing the premises of medication on 15 May.
Drug problems
The court heard Irvine, who was high on a cocktail of drink and drugs, including heroin, methadone and cocaine, put a Stanley knife close to Mr Tinkler's throat and said: "If you try anything, they all die."
Irvine claimed to police that he used to be a soldier and told them: "You've ruined my life. You've taken my child away."
Three of the victims Mr Singh-Landa, Ms McQueen and Ms Gordon had their hands bound with carrier bags and tights.
The court heard both Irvine and Paterson took morphine tablets and drank vodka in the shop.
At one stage Irvine took the lid of a bottle of isopropyl alcohol and poured it in a line at the door of the premises and told police that if they came in he would set the place on fire.
The stand-off was ended after Paterson collapsed because of the drink and drugs she had taken and police went in a back door. Officers used Taser stun guns on Irvine.
Footage of the ordeal was captured on CCTV cameras and excerpts were shown to the judge, Lord Doherty.
Advocate depute Alex Prentice QC told the court: "The victims were subjected to a three-hour ordeal at the hands of the accused, during which time they were detained against their will, assaulted by knives being brandished at them, tied up and threatened with violence.
"From witness accounts of what the accused said during the incident it appears to have been triggered by the fact that the accused Paterson's baby was removed from her care and both accused's desire to commit suicide."
Raise the alarm
Ms McQueen was one of two pregnant women in the shop at the start of the incident. The other, pharmacy dispenser Nicola Lumsden, managed to escape by leaving via a rear staff door and made her way to neighbouring premises to raise the alarm.
Mr Prentice said Irvine and Paterson, who both had long-standing problems with drugs, were in a relationship at the time of the crime.
Paterson had given birth in March this year but the child was placed in care because of her drug and drink misuse. Irvine was not the father.
The prosecutor said Irvine was known to all the pharmacy staff because of his regular attendance for the heroin-substitute methadone and other prescriptions.
Both Irvine and Paterson were remanded custody until sentencing.