Fire crews tackle Edinburgh tenement blaze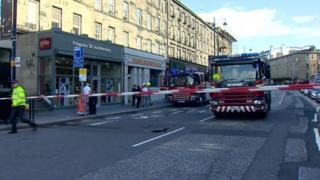 About 25 firefighters have tackled a major blaze in the common stairway of a tenement building in Edinburgh.
Emergency services were called to the blaze in Lothian Road, above the Hanging Bat pub, opposite the Odeon cinema, at about 16:40.
It had been initially thought that some residents may have been trapped in the building.
The Scottish Fire and Rescue Service said no-one had been injured and the fire had been put out.
It is understood a number of people were in the top floor flat when the blaze broke out. But they were able to remain in the building until the fire was extinguished.
A fire service spokesman said they had provided "fire survival guidance" to residents.