Protest in Edinburgh against Russian anti-gay law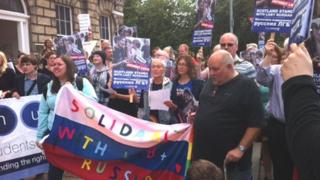 At least 150 campaigners have staged a demonstration outside the Russian consulate in Edinburgh, in protest at the country's anti-gay legislation.
It was organised by the Equality Network.
In June, Russia passed a law imposing heavy fines for providing information about homosexuality to people under 18.
The broadcaster Stephen Fry has urged David Cameron to support moves to strip Russia of the 2014 Winter Olympics in protest.
Scott Cuthbertson, community development co-ordinator for the Equality Network said: "We are here to show Scotland's support for lesbian, gay, bisexual and transgender people in Russia and also to let the Russian government know that their human rights abuses will not go unchallenged.
"Sadly there have already been lives lost, but there are many more lives at stake due to the policies of the Russian government.
"Today, like in other cities all over the world, Scotland takes a stand for equality and human rights."