Edinburgh International Festival leaves planet Earth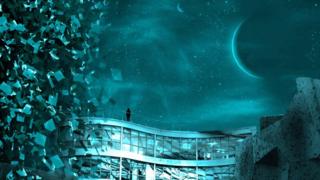 An intergalactic theatre work in which the audience become inhabitants of New Earth will take "pride of place" at the Edinburgh International Festival.
The festival, which, unlike the Fringe, is programmed by an artistic director, runs for three weeks until 1 September.
Sir Jonathan Mills, who selects the festival's performances, said Leaving Planet Earth was a "leap of faith".
It is a site-specific performance in the unusual location of a climbing centre on the outskirts of the city.
The work has been produced by Scottish theatre company Grid Iron, whose earlier work includes Decky Does a Bronco, which was set and performed in an Edinburgh playground.
Leaving Planet Earth will enjoy a sold-out world premiere, playing to 150 people for 13 nights.
Ticket-holders will be transported from the city centre to the cavernous Edinburgh International Climbing Centre at Ratho, where they become New Earth's most recent arrivals.
Sir Jonathan said the show was giving a "big and bold opportunity" to a Scottish theatre company.
"I can't tell you anything about it," he said.
"That is what is thrilling about a world premiere. It is about giving an artistic group the support and assistance they need to make something entirely new."
The International Festival, which has been running since 1947, hosts top-class performances of opera, dance, theatre, orchestral and contemporary music as well as the visual arts.
About 3,000 performers from 47 nations around the world will come to venues around the city, such as the Usher Hall, the King's Theatre, the Royal Lyceum and the Festival Theatre.
Sir Jonathan, who will step down after next year's festival, said the theme this year was the "symbiotic relationship" between an artist and the technology available to them.
He said: "We are charting a course of how artists have been intrigued to express themselves with the most up-to-date technology available to them through hundreds of years."
The festival's director cites the exhibition of the groundbreaking anatomical drawings of Leonardo da Vinci as an example of an artist working at the limits of available technology.
The drawings, exhibited at the Queen's Gallery of the Palace of Holyroodhouse, are being shown alongside the very latest medical imagery such as a "beautiful, illuminated 3D model of the human heart, which reflects the fact that Leonardo got a glass-maker to blow and carve a 3D image in glass of the human heart".
Other events which illustrate the theme, according to Sir Jonathan, include a performance of Beethoven's Hammerklavier sonata performed by Swiss pianist Andreas Haefliger.
The director said: "You can't have those pounding, imposing chords of that great sonata without the technological shift from a timber-framed instrument to a metal-framed one.
"Try to play that sonata on a timber-framed instrument and it would sound ridiculous."
The director also highlighted performances by Christophe Rousset, who will be playing keyboard instruments which are up to 400 years old.
They are taken from a "treasure trove" of "exquisite" harpsichords, which are "as spectacular to look as to listen to", from St Cecilia's museum in Edinburgh.
The festival's contemporary music strand includes Pierre-Laurent Aimard playing Stockhausen's Kontakte, which harnessed early electronic technology, pitting electronics against piano and sending music looping through space.
"Everywhere one looks there is actually a technological relationship of a very particular kind," said Sir Jonathan.
Minimalist composer Philip Glass has removed the dialogue from Jean Cocteau's classic 1946 film La Belle and la Bete and replaced it with his own music, which will be played live at the Edinburgh Playhouse.
The festival director said: "He is a composer ventriloquist who brings into the world of this grainy-lit film a whole different dimension of a live performance on stage."
Another show which uses an existing film as the centrepiece of its performance is the Wooster Group's take on Hamlet, which sees live actor Scott Shepherd sharing the lead role with long-dead Shakespearean superstar Richard Burton, who appears on a video projection.
Sir Jonathan describes another show - Don Quichotte du Trocadero - as "an incredibly sophisticated piece of comedy and dance theatre", which uses pieces of video with live performances.
He says lead performer Patrice Thibaud is one of the great comedians from France, who brings "a witty, elegant, slightly pensive approach to comedy".
Don Quichotte - or Don Quixote as he is known in English - is famously a slightly unhinged man who literally "tilts at windmills", which is where the expression originated.
In this production he is transposed to the dance halls - or Trocaderos - of Europe in something approaching the present-day.
"I would suggest that for those who really are connoisseurs of their comedy they should look at this show above all others in Edinburgh this August," said Sir Jonathan.