MSP Bill Walker trial retires to consider verdict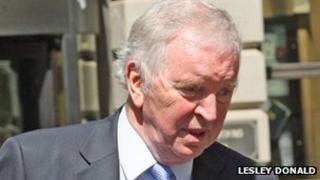 The sheriff in the MSP Bill Walker domestic abuse trial has retired to consider her verdict.
The Independent member for Dunfermline, 71, is on trial accused of attacks against three former wives and a step-daughter between 1967 and 1995.
He denies 23 charges of assault and one breach of the peace.
Sheriff Katherine Mackie will not pronounce her decision until 22 August - one of the reasons for delay being Mr Walker has booked a holiday.
Evidence shows Bill Walker, 71, engaged in "systematic physical and emotional abuse" towards the women over a prolonged period of time, Edinburgh Sheriff Court was told earlier.
Controlling and relentless
Prosecutor Les Brown told the court that Walker had, at times, treated the allegations against him "with an air of dismissive arrogance" and was inconsistent in his evidence.
"I would submit that Mr Walker's violent past behaviour has indeed caught up with him, and that the investigation into his conduct has revealed evidence, led in this court, which supports the veracity and the reliability of the testimony of his ex-wives," the procurator fiscal told Sheriff Katherine Mackie.
"I would ask you to accept that this behaviour over the years and decades was indeed violent, domineering, controlling and relentless. I would invite Your Ladyship to convict Mr Walker of all of the charges in the complaint."
But solicitor advocate Gordon Martin, defending, said Walker should be acquitted, and pointed to issues which he said raised reasonable doubts about the Crown's position.
The case is now adjourned until Thursday 22 August when the sheriff will deliver her verdict.
She has heard the case over nine days over two separate weeks.
The independent MSP for Dunfermline denies all the charges against him.