Kevin Addison jailed for shooting drug dealer Dodou Leigh in Leith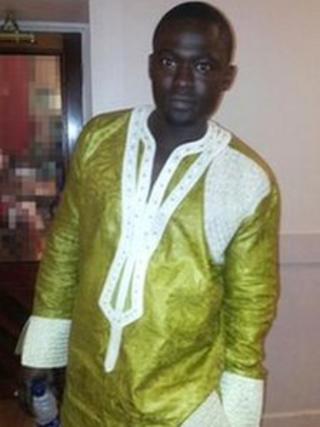 A gunman who killed a man during a drug deal that went wrong has been jailed for at least 22 years.
Kevin Addison shot Gambian national Dodou Leigh, 30, at a flat in Leith, Edinburgh, on 4 December last year.
He had admitted being responsible for the death but claimed the sawn-off shotgun had discharged accidentally.
However, Addison was found guilty of murder after a trial. He given a life sentence when he appeared for sentence at the High Court in Glasgow.
Judge John Morris QC told the 28-year-old he had been responsible for a "brutal" and "barbaric" killing.
Foreign language
Recalling the graphic images of the victim shown at the trial, the judge added: "The jury are likely to be haunted by the grossness of your actions for some time."
A trial heard how Addison shot Leigh during a dispute between the pair.
Addison had gone to buy herbal cannabis from Mr Leigh but had earlier got hold of a firearm and ammunition fearing he could be robbed.
He told a jury he became panicky when Mr Leigh and another man in the flat started talking in a language he did not understand.
He said he was then trying to leave the property when he heard Mr Leigh's footsteps behind him.
Addison said: "I took the shotgun out, pointed it in his direction and told him to open the door and let me out."
He said Leith tried to grab him and the weapon.
Addison said: "I tried to pull away and there was a bang. He was a big guy. When the gun went off, if flipped into the air and landed on the ground.
"I was in shock for a second or two. I picked it up and went to the door."
His lawyer Brian Gilfedder said Addison maintained that what happened had been an accident.