Scotsman Hotel chemical death bodies removed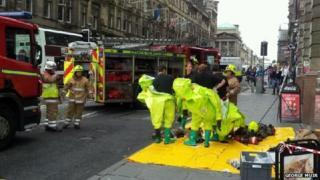 The bodies of a man and woman found dead after a chemical incident in an Edinburgh hotel are to undergo forensic analysis.
The pair were found in a room at the Scotsman Hotel at 12:15 on Thursday.
Police Scotland said the emergency operation at the hotel had now concluded and the fire service was satisfied there was no risk to guests or staff.
Both bodies have been removed from the hotel.
Police officers and fire service investigators had remained at the scene, on North Bridge in the city centre, overnight.
Police Scotland confirmed that the indications were the deaths had been chemical-related. Suicide has not been ruled out.
A spokesman for the force said: "Both bodies will undergo forensic analysis.
"Scotland Fire and Rescue carried out a robust examination of the hotel room and are satisfied the deaths were isolated to the room only.
"There was, and is, no risk to hotel guests, staff or members of the public in the area surrounding the premises.
"All chemical material of interest to this investigation has now been removed from the hotel with zero traces remaining inside the building."
Post mortem
A chemical incident response had been mobilised by the fire service, which saw about 25 firefighters, three pumps and a support crew attend the scene.
The sixth floor of the hotel was evacuated while emergency service personnel carried out their investigations.
The deaths continue to be treated as unexplained, pending a post mortem.
No details of either of the deceased will be released until next of kin have been informed.
The Scotsman Hotel is situated just off Edinburgh's Royal Mile and a short distance from Princes Street.
It occupies the former Scotsman Newspaper building and opened in 2001 when the paper moved to new premises.
Police said on Friday evening that they have finished their inquiries within the hotel room and a number of items have been seized by officers for forensic testing.
A force spokesman said the deaths are still being treated as unexplained but early indications pointed to a "chemical-related incident".
Guests staying at the hotel who were evacuated during the investigation have now been allowed to return.