MSP Bill Walker denies 'caveman' behaviour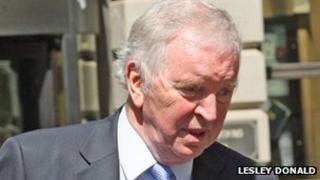 An MSP has denied in court that he behaved like a "caveman" by domineering and controlling his former wives.
Bill Walker, 71, also dismissed claims that his "violent and abusive past" had "finally caught up" with him.
The politician spoke as he gave evidence for a third day at his trial at Edinburgh Sheriff Court.
The independent member for Dunfermline denies a string of attacks against his three former wives and a step-daughter between 1967 and 1995.
During cross questioning by procurator fiscal Les Brown, the prosecutor put it to Walker: "In general terms, is it not the case in respect of these proceedings that your violent and abusive past over decades has finally caught up with you?"
Walker replied: "That's completely wrong."
Mr Brown went on: "All three of your ex wives, a full set of ex-wives, have been telling us the truth. Isn't that right, Mr Walker?"
"They've not been telling the truth," replied the MSP.
Concluding his questioning, Mr Brown said: "I further suggest your behaviour was domineering, controlling and relentless over years. To use your own words... this is caveman stuff. It was caveman stuff because you, Mr Walker, are a caveman."
Mr Walker replied: "No I'm not," adding that it was the accusations which were "caveman stuff".
The politician also told the court he did not accept he was a bully, and said he was "not a confrontational person".
He said suggestions he had taken an air rifle to his second wife's house were "complete nonsense".
The MSP also denied embellishing his claim that the same wife, Anne Gruber, came at him with a dagger in 1984 - an instrument the prosecution suggested was more like a letter opener.
Punched and kicked
After Mr Walker finished giving evidence, his current wife told the court she had also reported her husband to the police for pushing her.
June Walker said she had done so as she was very angry with him for having an affair.
She said she had punched and kicked him before he pushed her.
Mrs Walker said she was angry about how she was being treated and went to the police before later dropping the allegations against her husband.
Mr Walker denies 23 charges of assault and one breach of the peace. He has lodged special defences of self-defence in relation to three of the charges.