Two bodies found after chemical incident at Scotsman Hotel in Edinburgh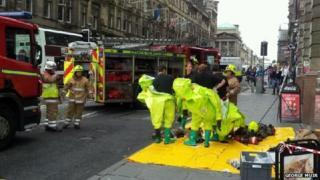 The bodies of a man and a woman have been found at an Edinburgh hotel where emergency services are dealing with an ongoing chemical incident.
The bodies were found by staff at about 12:15 at the Scotsman Hotel on North Bridge.
Police Scotland said inquiries were at an early stage and the deaths were being treated as unexplained.
The road is down to one lane and an area around the hotel, including the Scotsman Steps, has been cordoned off.
Suicide is not being ruled out by detectives.
Forensic tests
At least 20 firefighters were at the scene. There is not believed to be any wider risk to guests or staff at the five-star hotel as a result of the incident. The sixth floor of the hotel has been evacuated.
The BBC's Scotland correspondent James Cook said it did not appear officers were seeking anyone else in connection with the deaths.
Speaking at the scene, Ch Insp Murray Dykes said: "At the moment we are treating the deaths as unexplained. We will be doing a full forensic recovery of the bodies and inquiries will continue later today."
The ages and nationalities of the deceased have yet to be established.
Asked about the possible chemical aspect of the incident, Ch Insp Dykes said: "There has been a hefty response for this. We're treating all things as they come in.
"The reason that there has been a full turnout is because we are taking full precautions at the moment."
Lynn Massie, 34, and Neil Cooper, 31, from Aberdeen, are staying at the Scotsman and are waiting to collect their luggage after a two-day break.
Ms Massie said: "We're really shocked. I feel very sorry for the families of the two people. I don't know what happened but it's quite sad.
"You don't expect something like this to happen at a five-star hotel. It's a shame for the hotel staff too."
The Scotsman Hotel is situated just off Edinburgh's Royal Mile and a short distance from Princes Street.
It occupies the former Scotsman Newspaper building and opened in 2001 when the paper moved to new premises.
Edinburgh's summer season is under way as thousands of performers and tourists visit the Scottish capital for the Festival Fringe, which officially begins on Friday.