Image released of Leith baby death case blanket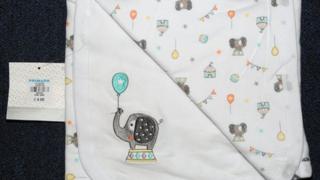 Police investigating the discovery of a baby's body on an Edinburgh footpath said the blanket the baby was wrapped in had only been on sale since March.
Only 70 have been sold in Primark's Edinburgh store since then and police have appealed for anyone who may have bought it as a gift to contact them.
The baby's body was found near Seafield Cemetery and Crematorium on Seafield Road in Leith at about 17:00 on Sunday.
The "early days" baby blanket features various circus-themed images.
It also has an image of an elephant with a balloon tied to its trunk on the far corner of the underside.
Examinations carried out on the remains have established that he was a young baby, who may have been up to six weeks old.
Jog memory
Police have released the image in the hope someone may have information that can lead to the identification of the boy, or his mother.
Det Ch Inspector David McLaren, of Police Scotland, said he hoped the picture would jog someone's memory.
"I would appeal to the public to consider whether they have seen a child wrapped in a similar blanket to this recently, and to ask themselves where that child is now," he said.
"We know from our initial work that this was a baby that was being cared for, fed, and as far as we know was healthy.
"We can't rule out that the mother has left the child in the area hoping that someone would find him and take care of him."
He urged the mother to come forward so officers could make sure she was safe and well.
"Likewise, I would urge anyone else who thinks they have information that can assist our inquiries to come forward," he added.