R&A to reconsider men-only golf clubs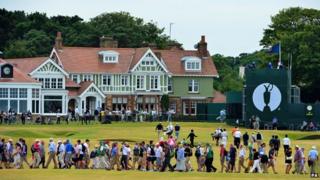 Golf's governing body has pledged to look again at the controversial issue of single-sex golf clubs.
Scottish First Minister Alex Salmond will not be attending the Open at Muirfield this week after criticising the club's men-only policy.
The Royal and Ancient Golf Club (R&A) said single-sex clubs were legal.
Chief executive Peter Dawson acknowledged it was a "polarising issue" but stressed membership policy was a matter for individual clubs.
He said the R&A would have another look at the subject after the Open, but said it would take a "hard push" for the R&A to change its position.
Muirfield is one of three golf clubs on the Open Championship rota that does not allow female members. The others are Troon and Royal St George's.
Mr Salmond has previously told BBC Scotland that single-sex memberships were "indefensible in the 21st Century".
Speaking at the traditional pre-tournament media conference, Mr Dawson said he believed the issue of gender and single-sex clubs had been "beaten to death recently".
But he admitted the R&A was finding the subject "increasingly difficult".
Mr Dawson stressed that single-sex clubs were "in a very small minority in the UK", with half of them being women-only.
He added: "In our view they don't do anyone any harm and we think the right of freedom of association is important. And we've explained our view that we think they have no material adverse affect on participation.
"We've got politicians posturing, we've got interest groups attacking the R&A, attacking the Open and attacking Muirfield. To be honest, our natural reaction is to resist these pressures, because we actually don't think they have very much substance.
"But I'd like to stress we're not so insular as to fail to recognise the potential damage that campaigns like this can do to the Open Championship."
'Way forward'
Former US secretary of state Condoleezza Rice and business executive Darla Moore became Augusta National's first female members in August last year, ensuring the matter received little attention at this year's US Masters.
However, Mr Dawson said changes would not be made simply to make life easier when the Open returns to Troon in 2016.
He said: "We will have a good look at what people are saying and try to take a view about all of this and find the most sensible way forward.
"I'm absolutely not going to pre-empt what's going to come out of this. I wouldn't even want to call it a review, but we're very conscious of the disparity of view on this subject."
Mr Salmond, a keen golf fan, attended last week's Scottish Open at Castle Stuart near Inverness.
Responding to Mr Dawson's comments, the first minister said: "I welcome reports the Royal & Ancient is to reconsider its position on men-only clubs.
"For the organisers of golf's oldest major championship to undertake this is a step in the right direction which will also be welcomed by everyone who loves the game.
"Scotland is proud of its tradition as the Home of Golf. However, if we are to be the future of this great game it is only right we have equality between men and women."
The Scottish government will be represented at Muirfield by Tourism Minister Fergus Ewing.
Outlining his opposition to the men-only policy of the Honourable Company of Edinburgh Golfers at Muirfield, Mr Salmond told BBC Scotland last month: "I just think it's indefensible in the 21st Century not to have a golf club that's open to all.
"If Muirfield had the Honourable Company of Women Golfers as well and had a women's company who played the course... some clubs do that and that's pretty acceptable.
"But to have the message that women are not welcome as members, can't be members, can't have playing rights over the course on the same basis as men, seems to send out entirely the wrong message about the future of golf."
A letter sent to the Honourable Company of Edinburgh Golfers in June is understood to have outlined issues the Scottish government has with gender exclusive clubs, invited them to revisit their position and wished them well for the tournament.
BBC Scotland understands the Scottish government also emailed Mr Dawson directly on 14 June to make him aware of its concerns. Sports Minister Shona Robison is also said to have raised the issue directly with Mr Dawson in the past.
But Mr Dawson claimed the first minister had not raised his concerns about single sex golf clubs with the R&A.