Edinburgh 'madam' Margaret Paterson jailed for five years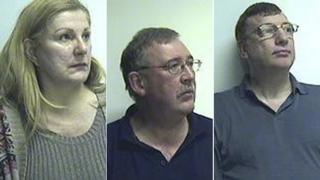 An Edinburgh madam who made a fortune running a £1.2m prostitution racket has been jailed for five years.
Margaret Paterson and her business partner Robert Munro ran a brothel and escorts service from the capital.
Munro was also sentenced to five years in prison and Ian Goalen, who acted as a driver for the business, was given 150 hours community sentence.
Paterson spent almost £500,000 on designer goods and earned the nickname "Madam Moneybags".
She was found with more than £200,000 in cash in her west end home when it was raided by police and it was this habit of stashing vast amounts of money in her home earned her the nickname.
The High Court in Edinburgh was told that Paterson, 61, ran her operation from a base in the New Town with Munro, 61, who was found guilty of the same charge.
Goalen, 59, had pleaded guilty to living off the earnings of prostitution then gave evidence against his former bosses.
During a nine-year period, Paterson and Munro provided prostitutes all over Scotland and laundered £1.2m.
Goalen, a former bank manager from East Lothian, acted as a driver for the working girls in Edinburgh, West Lothian, Glasgow, Aberdeen and Newcastle Upon Tyne.
However, it came to an end when police raided their premises in Edinburgh's Grosvenor Street in September 2011.
Officers found sex toys, designer shoes and evidence which showed Paterson had gone on a £461,604 spending spree in some of Edinburgh's most exclusive shops.
Detectives found credit card records which detailed how she bought luxury items from Harvey Nichols, Louis Vuitton and Mulberry.
They found about 400 designer handbags piled 7ft high in a rear bedroom, still in the store plastic bags.
They also discovered 100 boxes of unused designer shoes.
Other items included:
White Versace Watch, still in its presentation box, a discontinued model that would have sold for £4,320
Two Moissanite rings by Charles & Colard with certificates of authenticity. One ring had a stone of 1cm diameter and the second had three 1cm stones on a plain band. The rings have an estimated value of £1,400 to £1,800 each
Gucci Purse, still in its box and bearing a price tag of £315
Dior bag, large black ladies tote bag complete with protective white cover which was bought for £935
Mulberry Bag, large leopard print bag which has been used. The receipt indicates that the purchase was made for £495 in August 2011
She also purchased health care from the Spire hospital in Murrayfield, Edinburgh.
Paterson's QC, Edward Targowski asked Judge O'Grady not to jail his client saying that she suffered from chronic depression and had fought "serious" cancer.
Munro's defence solicitor advocate Vincent Belmonte said that his client was a former musician, engineer and restaurant owner who had served in the Territorial Army and added: "He has served his country through his time in the army reserves. He is a piper and he has used his skills to teach young people about piping.
"He has led a socially pro active life and has activities have been of benefit to the community. There is no benefit to society if Mr Munro is sent to prison."
However, judge O'Grady said he had no other option and passing sentence condemned the pair who exploited the women who worked for them.
He said: "It has been an operation remarkable in its scope, sophistication and organisation - not to mention its profitablity. It has also been remarkable for its cynicism. You constructed and maintained an elaborate - albeit - paper thin facade, portraying yourselves as an innocent escort agency, if that is not a contradiction in term.
"You persisted in this posture throughout the investigation and trial until the jury unanimously found it to be the palpable nonsense which it was all along."
He added: "Even now, you accept no responsibility and express no remorse. You insist that you have done no wrong and are merely misunderstood business people. Margaret Paterson, you appear to consider what what you were doing to have been virtually a social service.
"You have also sought to portray yourselves as some kind of protectors of the women involved and have maintained that none of them were compelled to ply this trade.
"And in the strict sense, this is true.
"But even that position is shot through with cynicism. We have heard from four of these young women - and I have no reason to suppose they were untypical of the countless women who were involved with you over the years.
"And while they did indeed make a choice, I cannot help but observe that in the case of each one from whom we heard, she was at the material time a young, single parent, invariably in dire financial straits.
"These women may not have been compelled by you but they were driven by circumstance and - at best - you did not care, you took advantage of it and their difficulty has been the font of your considerable profit."
'Profit and power'
Det Supt Gordon said no trafficked women were discovered but evidence of a "large organised criminal business" was uncovered.
He said: "It was planned and involved the use of a number of phones and drivers. They operated in Edinburgh, Glasgow and Aberdeen. Multiple mobile phones were used to control a network of sex workers.
"They claimed it was an escort business offering companionship and friendship only, but a number of females were involved in prostitution.
"The two motives across organised crime are profit and power. They made significant criminal profits from this venture and had significant control over the females."
Det Supt Gordon said Paterson was "well-known" in shops like Harvey Nichols as "someone who spent a lot of money".
The trio were convicted of proceeds of crime and immoral earnings charges after a month-long trial at the High Court in Edinburgh.
Details only emerged after the conclusion of the trial as Judge Michael O'Grady, QC, passed a contempt of court order at the start of proceedings prohibiting reports of it until the trial had ended.
The jury spent three hours deliberating their verdict. They then returned unanimous verdicts on all charges.
After sentence, the Crown Office confirmed confiscation proceedings had been started against Paterson and Munro who together laundered more than £1.2million.
Financial affairs
Lindsey Miller, head of the Crown's serious organised crime division, said: "Margaret Paterson and Robert Munro exploited vulnerable women for their own profit, running a large network of prostitutes across Scotland, and laundering the proceeds of their criminal activities.
"This conviction demonstrates our commitment to bringing to justice those who exploit others and seek to benefit from crime.
"The conviction involves an aggravation under section 29 of the Criminal Justice and Licensing (Scotland) Act 2010; one of the new provisions to tackle serious organised crime. We will continue to use every power available to us to disrupt the activities of those who commit crime and exploit others for their own gain."
The Crown is also seeking a Financial Reporting Order (FRO) against Paterson and Munro which is aimed at enabling the monitoring of the financial affairs of an accused after conviction and intended to prevent further economic crime. They require a convicted criminal to report their financial details at regular intervals to the police.